My Links
This is where you can easily find important resources and information including your paystubs, e-learning, requesting employment letters and more.
Access and Resources
Staff Portal
The Staff Portal is where you will go for:
Accessing and making requested edits to your demographic information (address, phone number, emergency contacts, etc)
Adding skills to your profile
Access your payroll information, pay stubs and electronic T4 forms
To access the staff portal, you will login with your BCHS email and password (same as Outlook). If you have any issues accessing the Portal, please contact the helpdesk.
BCHS email
To access your outlook email account from home or your mobile device, open the Outlook Web App.
Internal Career Opportunities
To access Internal Career Opportunities, navigate back to the the Careers and Volunteering landing page. From there, click on Internal Career Opportunities to access and apply via your Employee Profile.
Pay information
To access information about your pay, open the Staff Portal and login. You username and password are the same as your Outlook email account. From there, click on the "Payroll" icon.
If you have a change in banking information at any time, submit a new void cheque or direct deposit form directly to the Payroll office located on E-Wing level 5
To see upcoming pay dates view the pay calendar.
To see upcoming stat holidays, view the 2023 Stat Holiday Calendar and 2024 Stat Holiday Calendar.
Foundation 50/50 and Hospital Family Program
You can show you care by joining our Hospital Family program today! We are proud to have many BCHS staff, volunteers and medical professionals throughout our organization personally support the BCHS Foundation with a financial contribution. The Hospital Family campaign showcases to our community that BCHS employees believe in and support the BCHS Foundation to help provide an exceptional care environment to our patients, access to state-of-the-art equipment and technology, and a workplace we can all take pride in. Explore the many benefits and the flexibility of giving to the BCHS Foundation using payroll deduction. Every gift matters and every dollar counts, so whether you choose to give $10 or $1,000 – be proud of the fact that you are helping to transform healthcare in our community.
All employees of the BCHS that are 18 years or older have an option to enrol in the BCHS Foundation's Hospital Family 50-50 Draw. As a participant, you could join the hundreds of BCHS staff members who have won over $1,100 in the bi-weekly Hospital Family 50-50 draw, while also investing in local healthcare at the Brant Community Healthcare System. Enrolment is handled by Payroll and $5.00 is automatically deducted from each pay with the option to discontinue at any time. You can sign-up directly in your onboarding paperwork.* In addition, you can register online with this link 50/50 Draw – BCHS Foundation (bchsysfoundation.org), contact the BCHS Foundation at extension 5510 for more information, or stop by their office in A-Wing!
Performance and learning management (Halogen)
To access your performance and learning management, open Halogen. You username and password are the same as your Outlook email account. This is where you can track your career development such as certifications and education, complete performance evaluations, and access all e-learning.
Peer Support Team
Visit the Peer Support Program information page here.
To nominate a colleague for the Peer Support Team, fill out the form here. Please note that all Nominees should be informed before the form is submitted.
Equity, Diversity, and Inclusion Council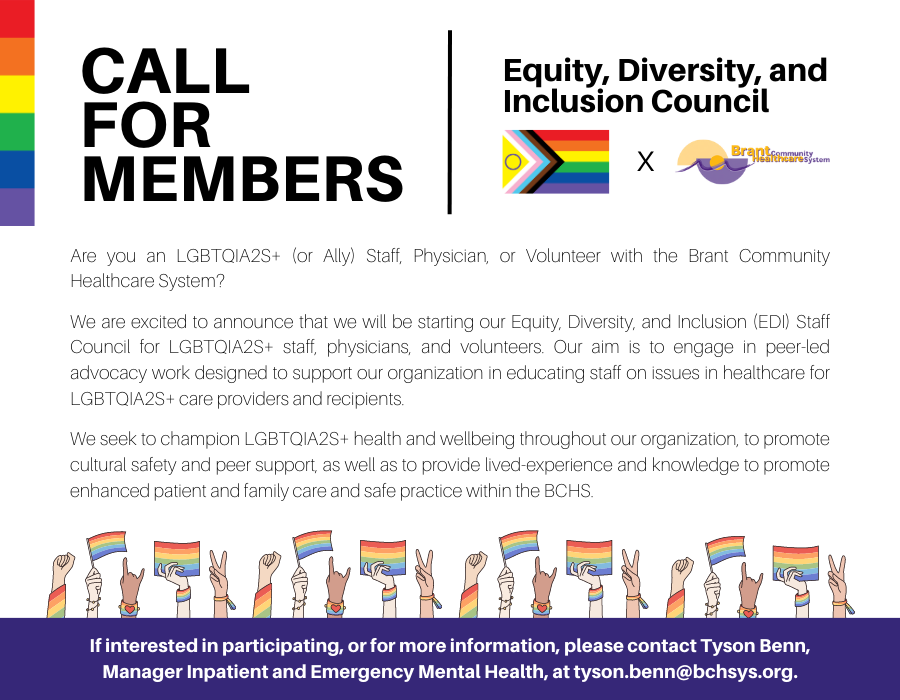 Policies and procedures
To access all policies and procedures, open the employee intranet from any computer in the hospital. From there, go to "DOCS" to easily search and access policies.
Purchasing uniforms
To shop for BCHS uniforms provided by MEDICWEAR, please visit the uniform store located at
84 Charing Cross St, Brantford, ON N3R 2H6 (1.4km from BGH) or by calling the store 519-754-9327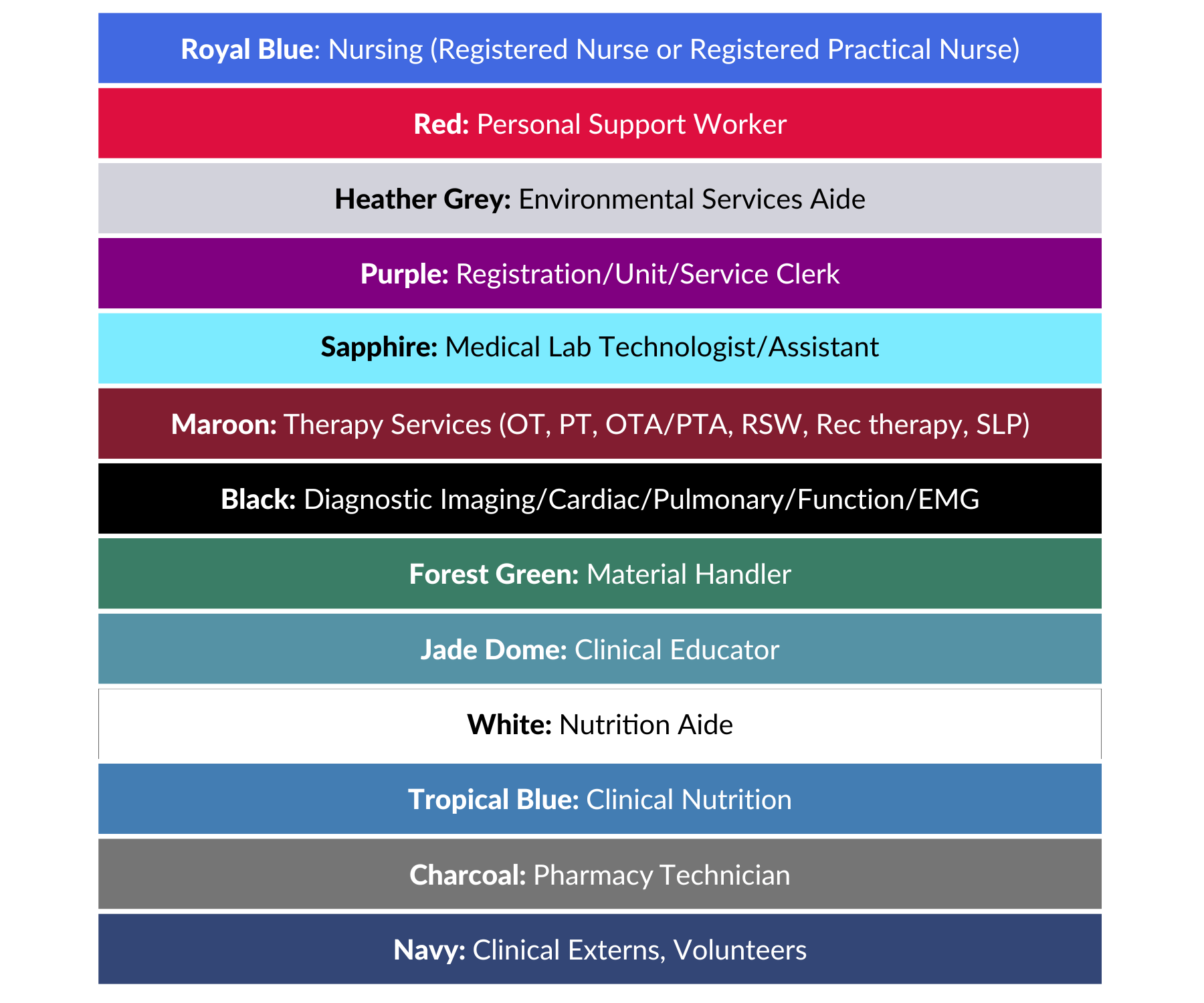 The store hours are:
| | | |
| --- | --- | --- |
| Sunday and Monday: | | Closed |
| Tuesday: | | 10:30 am - 5:00 pm |
| Wednesday: | | 10:30 am - 5:00 pm |
| Thursday: | | 10:30 am - 5:00 pm |
| Friday: | | 10:30 am - 5:00 pm |
| Saturday: | | 10:30 am - 2:00 pm |
Medicwear is aware of our uniform requirements and has advised that same-day embroidery will be available. All BCHS employees, professional staff, and volunteers will receive a 10% discount when they show their BCHS badge.


Standardized T-shirts
Campus Crew T-shirts are available for order beginning in early June. Orders are due by the third Friday of each month. Please bring the completed order form and cash/cheque to the Business Office (BGH A-wing). Orders will take 4-5 weeks to be delivered to the hospital. You will be contacted with pickup details when the T-shirts arrive.
All shirts are $20; $5 from each sale will go to Staff Wellness & Recognition efforts.
Reporting an incident
To report an incident involving you personally, impacting your health, safety or well-being, report through Parklane.
SIMS (Safety Incident Management System) is our reporting and tracking system for patient safety incidents. Reporting systems are critical to capturing patient safety concerns, hazards and/or incidents and trigger action, facilitate communication, response, learning, and improvement. To access SIMS, please locate the large icon on the homepage of the VSNET. For support, a number of tips sheets can be found directly below this icon on the VSNET.
CITRIX remote access
To access CITRIX from home, open the Citrix Remote Access Website. Please note: You must contact the I.T department before using CITRIX to set up your account.
My Scheduling
Schedules are accessible from any computer in the hospital. You will find your schedule in the common drive, under the "Staff Scheduling" folder.
If you are sick at work, or cannot come to work because you are sick, you have to call your Manager. After you speak to your Manager, you must also call your staff scheduler. If your illness causes you to miss more than one (1) scheduled shift, you must call your Manager before every subsequent shift that you miss. After you have contacted your Manager, you must also call your staff scheduler. If you do not call by the times described below, your Manager will assume you are able to return to work, so it is important to review the following.
Call-In Guidelines

| MUST CALL BY: | SHIFT TIME: |
| --- | --- |
| 1400 hrs | Tomorrow's Day Shift |
| 0900 hrs | Today's Evening Shift |
| 1200 hrs | Today's 12 Hour Night Shifts |
| 1400 hrs | Today's 8 Hour Night Shifts |
If you are absent for three (3) or more days, you are required to provide a doctor's note to Organizational Health before your next shift, to ensure you are able to return to work safely. Organizational Health will provide you with any resources or support you may need.
If you would like to book time off, please complete an Availability Form located in your BCHS email. Staff Request Forms are also located here. Once complete, email the form to your Manager and Staff Scheduler. Please complete the Availability Form before your schedule is posted. Approvals are based on seniority and a standard of 1 Full-Time and 1 Part-Time off at any given time. Any availability forms received after schedules are posted will be approved on a first come first serve basis based on the standard.
The Staff Scheduling office is located on the Main Floor of the A-Wing, open 7 days per week: 0530-2100. Email: StaffScheduling@bchsys.org. Call extension 5580.
Clinical Resources
For various clinical resources, such as "up to date" and "criticall", visit the employee intranet.
Employee Requests
Please note that Demographic changes such as name changes, address changes, etc must now be completed via the Staff Portal. To update your information, open the Staff Portal and login. From there, click on the "Profile" icon and follow the steps listed on the page.
Employment Letters
Request a letter of employment.
Please note your letter of employment will be emailed to your BCHS email within one (1) week of your request. All requests are placed in sequence, and it may take up to one (1) week to receive depending on volume. If you request is timely, please ensure you are requesting in advance.
Scheduling Requests
If you wish to request cross-training, please complete this request form.
If you have a special request in regards to Scheduling, please complete the following request form.
Once you have completed the applicable form your Manager, and Staff Scheduling will be notified. You will receive a response within 2 weeks.
Request a Casual Position
If you wish to resign from your current position, and request to transfer to a Casual Part-Time position, you must complete a request form. Please ensure you are eligible before completing the form.
Eligibility Requirements:
Employees who have not completed their probation hours and/or have been with the organization less than 3 months are not eligible.
You must be available to accept a minimum of 8 shifts within 3 months.
Your selected effective date must align with the beginning of a pay period. You cannot transfer mid-pay period.
Once you have completed the applicable form, Human Resources, your Manager, and Staff Scheduling will be notified. You will receive a response within 1-2 weeks.
If you meet the criteria above, please complete the following request form.


Leave of Absence
For important information regarding Human Resources leaves (such as maternity and/or parental leave, personal/education leave, etc) please visit the Leave of Absence page for more information, and to complete the request form.
For important information regarding Organizational Health leaves (such as sick leave, family caregiver leave, critical illness leave, etc) please visit the Leave of Absence page for more information and contact Organizational Health directly.
Centralized Education Fund Information and Request
If you are submitting a request for reimbursement from the Centralized Education Fund, please review this flow chart and FAQ document.
If you are ready to submit - please visit the CEF page to fill out the form.
Request Pension Plan Enrollment (HOOPP)
As a Part-Time employee, you have the option to enroll in the HOOPP pension plan at any time by using this Enrollment Request Form.


Once this request has been submitted, we will enroll you the first day of the pay period following this request.


Please note that enrollment in the pension plan is mandatory for Regular Full-Time employees. If you are a new employee, or have recently transferred to a Regular Full-Time position, you will be contacted regarding this and do not need to complete this form.


For more information on HOOPP, contribution rates, and further details, please visit the HOOPP website.
Payout Request
To request a pay out of your regular vacation balance, supplementary vacation balance, bonus vacation balance, banked lieu time or banked statutory holiday time, please complete the fillable form above. Pay out requests are reviewed on a case by case basis and are subject to approval. If approved, you will be provided with an agreement for signature outlining the payout arrangement.