Indigenous Health Services
Indigenous Health & Medicine Team
In an effort to improve quality of care, foster inclusivity, and promote a culturally safe environment at the Brant Community Healthcare System, the Department of Hospital Based Medicine has introduced the physician-led implementation of a Division of Indigenous Medicine.
In alignment with BCHS's Strategic Plan, its mission and values, and in response to feedback from Indigenous patients and communities, we work collaboratively with leadership, staff, and physicians to improve the Indigenous patient experience at BCHS and advance the ideals of cultural safety therein.
Dr. Amy Montour
Dr. Montour has practiced hospital medicine and palliative care at BCHS since 2014. She is deeply respected within our organization and community for her commitment to patient and family-centered care, and is a nationally-recognized expert in Indigenous health and palliative medicine. She is known for the collaborative approach with which she practices, and the manner in which she strives to ensure all patients receive the highest quality of care.
Dr. Karen Hill
Dr. Karen Hill is a Mohawk physician from Six Nations of the Grand River Territory. Her passion is to see Traditional Indigenous Knowledge return to the center of life and healthcare for Indigenous people across Canada.
In 2015, Dr. Hill became the first recipient of the Thomas Dignan award for Indigenous Health conferred by the Royal College of Physicians and Surgeons. In the same year, she also received The College of Family Physicians Excellence Award for leading the way in Indigenous collaborative care in primary practice. Also, in 2016, she was honored by McMaster University with a Community Impact Award.
Dr. Hill continues to practice consultative medicine at Six Nations and works with her colleague Dr. Amy Montour in the Indigenous Health Service at the Brantford General Hospital.
Leigh Staats | Indigenous Patient Relations Navigator
As the Indigenous Patient Relations Navigator, Leigh supports any self-identified Indigenous patients that are admitted to hospital and helps guide them throughout their journey. Focusing on discharge planning, community supports and resources, medical literacy, access to traditional medicines, and advocacy throughout the patient relations process, Leigh is proud to serve our communities through a collaborative approach to healthcare.
To connect with Leigh or to submit a self-referral, please call 519-751-5544 ext. 4561 or email
leigh.staats@bchsys.org
.
Tara Miller | De dwa da dehs nye>s Indigenous Patient Navigator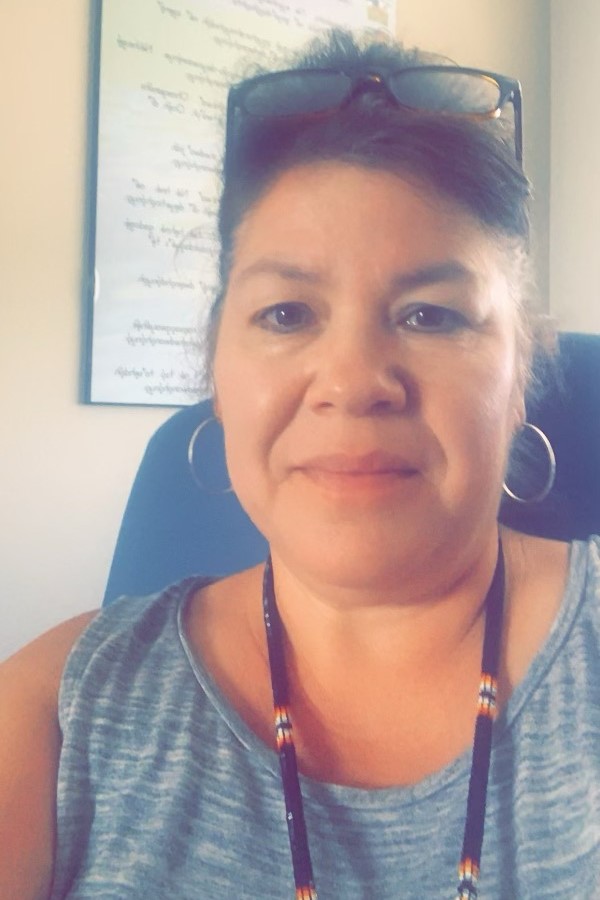 Tara Miller is Mohawk, Turtle Clan, from Six Nations of the Grand River. As the Indigenous Patient Navigator with the De Dwa da dehs nyes> Health Centre Brantford site, Tara services the Brant/Haldimand area. Tara can assist patients to achieve or maintain Physical, Mental, Emotional and Spiritual wellness and can offer support to patients and their families in hospital, home and the community.
The Indigenous Patient Navigator supports individuals in their plan of care as well as connecting to resources during their healing journey.
To connect with the Indigenous Patient Navigator, please contact:
Tara Miller:
Phone: (519) 750-4323 | Email: TMiller@dahac.ca.
If you would like to self-referral as an Indigenous patient at BCHS, please click the button below to connect with Leigh Staats (Indigenous Patient Relations Navigator) to start the self-referral process.
Indigenous Patient Self-Referral
Indigenous Family Space
Brant Community Healthcare System has created an Indigenous Family Space, located on Floor A8, Room 119. It is a place where patients and families can gather in a culturally safe space and practice traditional healing.
Indigenous Cultural Safety Committee
The BCHS Indigenous Cultural Safety Committee (ICSC) is a partnership of community members and healthcare providers who are committed to learn, share, and support strategies focused on improving experiences for Indigenous Health.
If you are interested in joining the ICSC, please contact Christina Ingram (Chair of ICSC) at 519-751-5544 ext. 2618 or email christina.ingram@bchsys.org.
Indigenous Education, Safety, and Allyship
BCHS is committed to the support and promotion of Indigenous Cultural Safety throughout our communities. Please find below educational resources on how to support cultural safety and learn how you can become an ally.
Indigenous Allyship Toolkit
The Indigenous Allyship Toolkit: A guide to honouring culture, authentic collaboration and addressing discrimination, has been prepared by the Hamilton Niagara Haldimand Brant Indigenous Health Network in partnership with the Hamilton Niagara Haldimand Brant Local Health Integration Network (HNHB LHIN) to support health care providers in addressing inequities.
Recognizing there are many existing resources available on this subject created by elders, knowledge keepers and experts, this toolkit is a compilation of these resources and reflection exercises to deepen understanding and provide practical techniques to aid in your journey of self-awareness and allyship.
This toolkit is intended to provide essential resources that will inspire settlers to advocate for social justice for Indigenous people and to appropriately act upon anti-Indigenous racism.
Indigenous Cultural Safety Training
University of Alberta's Faculty of Native Studies offers a free 12-lesson Massive Open Online Course (MOOC), which explores Indigenous histories and contemporary issues in Canada. From an Indigenous perspective, this course explores key issues facing Indigenous peoples today from a historical and critical perspective highlighting national and local Indigenous-settler relations.
Cancer Care Centre lists cancer resources to support First Nations, Inuit, Métis, and urban Indigenous communities and organizations in Ontario.
Truth and Reconciliation
As an important step in rebuilding Canada's relationship with Indigenous peoples, The Government of Canada continues to be committed to a renewed nation-to-nation relationship with Indigenous peoples based on recognition of rights, respect, co-operation and partnership. To learn more, please read the official Statement of Truth and Reconciliation.
National Inquiry into Missing and Murdered Indigenous Women and Girls
The National Inquiry investigates the systemic causes of all forms of violence against Indigenous women and girls, including sexual violence. We must examine the underlying social, economic, cultural, institutional, and historical causes that contribute to the ongoing violence and particular vulnerabilities of Indigenous women and girls in Canada.
The mandate also directs us to look into and report on existing institutional policies and practices to address violence, including those that are effective in reducing violence and increasing safety.
MMIWG Information Final Report: Volume 1a Final Report: Volume 1b
Two-Eyed Seeing in the Healthcare System
Dr. Amy Montour's Two-Eyed Seeing video presentation highlights a number of key messages that reflect our current healthcare system:
Truth is a necessary step in reconciling relationships between Indigenous & non-Indigenous peoples
The sociopolitical history of Canada has had a direct impact on the wellbeing of Indigenous peoples
Two-eyed seeing acknowledges that both Indigenous & non-indigenous worldviews are important in healthcare
Dish With One Spoon
A "dish with one spoon" was often mentioned by Indigenous peoples while making treaties with one another to avoid violent conflict. The "dish" represents the land that is to be shared peacefully and the "spoon" represents the individuals living on and using the resources of the land in a spirit of mutual co-operation.
Subsequent Indigenous Nations and Peoples, Europeans and all newcomers have been invited into this treaty in the spirit of peace, friendship and respect.
Two Row Wampum - Gä•sweñta'
The Haudenosaunee see the Two Row Wampum as a living treaty; a way that they have established for their people to live together in peace; that each nation will respect the ways of the other as they meet to discuss solutions to the issues that come before them.
Woodland Cultural Centre
Located at 184 Mohawk Street in Brantford, the Woodland Cultural Centre serves to preserve and promote Indigenous history, art, language and culture. We welcome you to visit and learn the story of the Haudenosaunee people of the Eastern Woodlands through innovative exhibitions and programs.
Every Child Matters | Orange Shirt Day
Orange Shirt Day happens every year on September 30th and honours all the Indigenous children that attended residential schools across Canada. It is an opportunity to educate, remember, and reflect on the tragedy of residential schools and the lasting impact they have had on Indigenous cultures, survivors and their families.
Indigenous Community Resources
To visit the website of any of the external organizations listed below, please click on the name of the organization.
Patient Experience & Feedback | Compliments? Complaints? Suggestions?
If you have feedback about your experience at Brant Community Healthcare System, we want to hear from you. It helps us to provide the best healthcare possible when we hear the things we do well and what we need to improve.