COVID-19 (novel coronavirus)
Updated August 6, 2020
We are taking precautions to ensure the safety of our staff, patients, and community during the COVID-19 pandemic. Throughout the duration of the pandemic, we will do our best to provide as much up-to-date information for our patients, families, and community members on this page.
The boxes below share some important information regarding COVID-19 and BCHS. For updated information on COVID-19 in the province visit https://www.ontario.ca/page/2019-novel-coronavirus and for local information visit https://www.bchu.org/.
How is BCHS preparing for COVID-19?
BCHS has robust screening and infection prevention and control procedures in place. BCHS has been working closely with the Ministry of Health (MOH), and the Ontario Hospital Association on provincial readiness. BCHS is also working with local partners including Brant County Health Unit, EMS, and community providers.
We have adequate stock of all needed supplies and equipment should they be needed.
Each patient is screened for respiratory illness and asked about recent travel to assess against current risk criteria. If they meet that criteria, appropriate isolation steps are immediately taken.
What to do if you think you have COVID-19
As stated by the Ministry of Health the most common symptoms of COVID-19 include:
fever (feeling hot to the touch, a temperature of 37.8 degrees Celsius or higher)
chills
cough that's new or worsening (continuous, more than usual)
barking cough, making a whistling noise when breathing (croup)
shortness of breath (out of breath, unable to breathe deeply)
sore throat
difficulty swallowing
runny, stuffy or congested nose (not related to seasonal allergies or other known causes or conditions)
lost sense of taste or smell
pink eye (conjunctivitis)
headache that's unusual or long lasting
digestive issues (nausea/vomiting, diarrhea, stomach pain)
muscle aches
extreme tiredness that is unusual (fatigue, lack of energy)
falling down often
for young children and infants: sluggishness or lack of appetite
---
For an updated list of COVID-19 symptoms please see Symptoms and treatment information by Province of Ontario
If you think you have symptoms or are concerned that you may have been exposed to COVID-19, please visit the COVID-19 Assessment Centre located at the Brantford General Hospital. No referrals are required. For details on the location and hours, see the "COVID-19 Assessment Centre" tab below.
If you require urgent care and are in distress call 911 or visit the Emergency Department immediately.
COVID-19 Assessment Centre
The Brant Community Healthcare System is operating a COVID-19 Assessment Centre at the Brantford General Hospital D-wing entrance.
Who should come to the COVID-19 Assessment Centre?
All people with symptoms (at least one symptom of COVID-19, even for mild symptoms)
Asymptomatic people who are concerned that they have been exposed to COVID-19
Asymptomatic people who are at risk of exposure to COVID-19 through their employment
If you think you have coronavirus (COVID-19) symptoms or have been in close contact with someone who has it, use this self-assessment to help determine how to seek further care. Click here to access.
Testing is available by appointment. We are also accepting walk-ins, but please note that there may be a wait-time for walk-ins, as prioritization will be given to booked appointments. Appointments continue to be booked for the Assessment Centre in order to decrease wait times, ensure an orderly flow and to protect patients and staff by ensuring a safe physical space can be provided at the sites. You can book an appointment time by calling the BCHS hotline at 519-751-5818. The BCHS hotline is available Monday-Friday from 9:00 a.m. - 5:00 p.m.
Please note that for the safety of all patients, families and staff, we have visitor restriction in place. People getting tested at the Assessment Centre will not be allowed to have visitors unless they meet the following criteria:
An adult accompanying a child who is a patient
A frail older person
A person with a disability
An interpreter for a patient
If you start experiencing worsening symptoms and require urgent care, please visit the local emergency department or call 911.
How do I access my COVID-19 test results?
There is a new user-friendly online portal where the public can easily access their COVID-19 lab test results.
Assessment Centre Hours:
Monday to Sunday: 8:00 a.m. – 4:00 p.m.
Brantford General Hospital: 200 Terrace Hill St
Brantford, ON N3R 1G9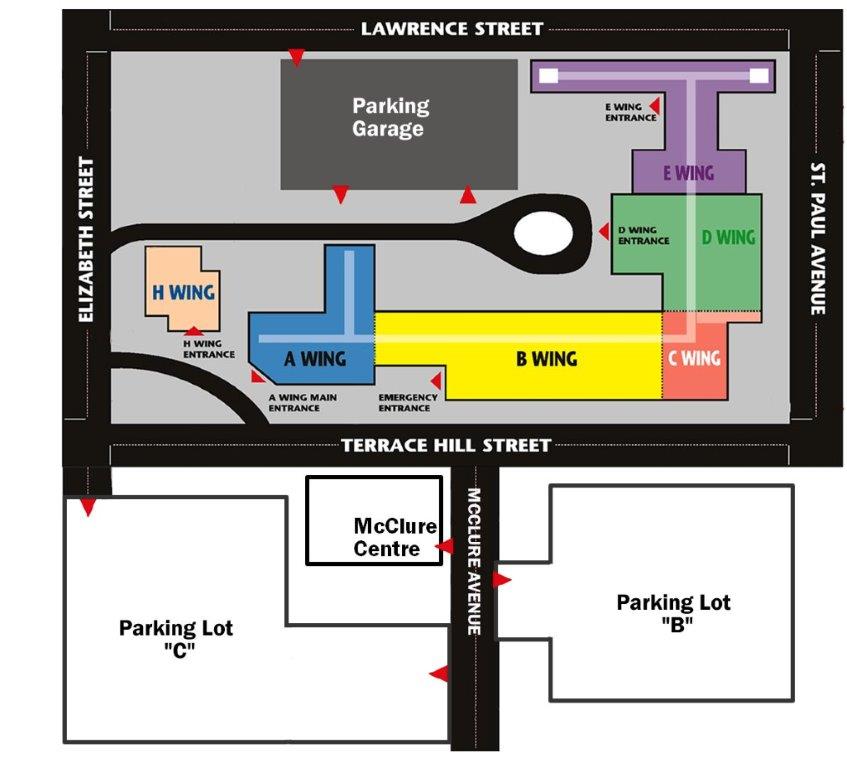 Visiting Hours and Information During COVID-19
Updated Visitor Policy at BCHS
Brant Community Healthcare System has put in place a careful and measure approach to reintroduce visitors into our hospital that will keep everyone safe. We want you to be assured that it's safe to be at our hospital sites.
Visiting Guidelines
As BCHS continues to take additional precautions to address the effects of COVID-19 and to keep everyone safe and healthy, we have updated our Visitor Policy as of July 2, 2020. BCHS is committed to providing patient and family-centered care and is making every effort to ensure the needs of patients and families are met while temporary measures are in place.
Guidelines for caregiver visits may change at any time and will be based on COVID-19 frequency within the community or hospital, or infection control measures that increase safety risks. BCHS will allow visitors depending on the local and regional activity of COVID-19 and based on provincial guidelines.
COVID-19 Patients
Due to the extreme high risk to visitors, patients and staff, visiting is prohibited for all COVID-19 patients, including confirmed and suspected cases. Virtual visits will be supported when possible.
Essential Visitors
Essential visitors are identified by patients and must be 18 years or older. They are allowed to visit for compassionate reasons and in exceptional circumstances. Essential visitors include caregivers who meet the following conditions:
People who are visiting or assisting a patient who is at end of life or gravely ill
One parent or guardian of a child or youth who is a patient
Up to two support persons for a woman in labour. Examples of exceptional circumstances requiring two support persons include:

Surrogacy: support person and intended parent(s)
Adoption: support person and adoptive parent(s)
Doula: support person and doula supporting patient
Indigenous Midwives: support person and person supporting labouring mother
Brant Midwives: support person and person supporting labouring mother
In circumstances where patients will need to enter the Operating Room, visitors will need to wait in the designated waiting area and will not be permitted to enter the Operating Room.
One caregiver who is supporting a patient following a surgery or procedure. NOTE: A caregiver is allowed only if they are essential to support the patient to the preparation area and then for pick up beyond the hospital entrance.
One caregiver providing essential assistance to a patient who needs cognitive and/or physical support and/or cultural interpretation.
Visitors are not permitted to BCHS if they have:
Have tested positive for COVID-19
Have had close contact with a confirmed or probable case of COVID-19
Have a fever, cough or difficulty breathing
Are feeling unwell with other symptoms such as vomiting, diarrhea or a new rash
Have been outside of Canada in the last 14 days
Have had close contact with a person with an acute respiratory illness who has been outside of Canada in the 14 days before symptoms begin to show.
As each situation is different, the unit manager will determine whether a visitor meets the conditions and decide on the length of the visit. Essential visitors must be scheduled in advance through the care team.
General Visiting Guidelines
Scheduling Visits:
Visiting hours are from 12:00 noon to 8:00pm daily at Brantford General Hospital and The Willett.
Visitor appointments will be scheduled 24 hours in advance.
Visitors will be scheduled by the unit clerks on each unit.
Each unit will accommodate a scheduled 1-hour visit for each patient at least once every two days. PLEASE NOTE: At this time, patients with acute respiratory infection precautions will not be permitted to have general visitors.
Each patient can have up to two (2) designated visitors, with only one visitor at a time.
Scheduling visits will be done at the unit level focused on a balance of care delivery requirements and allowing visitor access to help promote positive health outcomes and recovery for our patients. PLEASE NOTE: While updated visiting guidelines are put in place, there may be some time periods when visitors will be restricted on certain hospital units.
Visitors Entering BCHS
Brantford General Hospital
All visitors must enter the hospital through the D-Wing entrance, be screened at the door and follow all required personal protective equipment precautions. Exceptions include Paediatric and NICU visitors, where visitors will enter through the A-Wing Entrance.
The Willett

All visitors will enter through the Urgent Care Entrance, be screened at the door and follow all required personal protective equipment precautions.
Once the visitor completes screening and is wearing a mask, they will be directed to the Visitor Support Desk. At The Willett, screeners will call the Transitional Unit to confirm visitors entering the building.
The Visitor Support Volunteer will confirm the visitor has a scheduled visit and take the following information:

Name of visitor
Name of patient
Time of visit
Contact phone number
The Volunteer will provide the Visitor with a Visitor badge, showing the time of visit and then direct the visitor to the unit.
Visiting the Unit
Visitors will be restricted to the patient's room only.
Visitors must clean their hands when coming into the hospital, and when entering and leaving the patient's room.
Visitors must put on the appropriate personal protective equipment as shown on the sign posted outside the patient's room.
Visitors must stay in the patient's room unless escorted by staff.
Eating/drinking is not permitted within the patient room.
Visitors should not touch anything in the room.
Visitors should use public washrooms and not patient washrooms.
Visitors are should not use washrooms in patient rooms. They should instead utilize washrooms in public areas.
Visitors must not visit common areas located within the unit. Exceptions may be made for utilization of the Indigenous Family Space.
Visitors Exiting BCHS
Visitors will exit through Door 22 located in the D Wing Main floor at the Brantford General Hospital.
Visitors will exit through the Urgent Care entrance at the Willett.
If you have questions about the BCHS Visitor Policy, please contact a member of your loved one's care team by calling Switchboard at 519-751-5544 extension 0.
Gradual Reintroduction of Scheduled Care Services
Gradual Reintroduction of Scheduled Care Services at BCHS
Brant Community Healthcare System is gradually reintroducing some appointments and procedures paused due to the COVID-19 pandemic. We are following the direction of the provincial government, which has recommended a phased approach to service resumption in hospitals across Ontario.
Together with our regional partners, and following the direction of the government, we have developed a principled plan to gradually phase in non-urgent procedures and services. This plan will allow us to balance the need to resume care for patients who have been waiting for treatment with our obligation to be ready for a possible surge in COVID-19 patients. Protecting the health and safety of our patients, staff and community is our top priority and a critical component of our plan.
If your appointment or procedure was cancelled or postponed due to the pandemic, your physician or surgeon's office will contact you with the new date.
We appreciate your patience as we work to provide care to those with urgent needs. If you have questions or concerns, please contact your doctor's office for guidance.
If you are experiencing serious symptoms, please call 9-1-1 or go to their nearest emergency department.
Visiting the Hospital
For the safety of all visitors, patients, and staff, please follow these important reminders when visiting the hospital for a scheduled care appointment:
We are using one main entrance in an effort to control and prevent the spread of COVID-19 – please enter at the D-Wing Entrance. Please show up close to the time of your scheduled appointment.
Anyone entering the hospital will be provided with a face mask and will go through active screening to test for COVID symptoms.
You are required to practice physical distancing and to sanitize your hands using the dispensers located throughout the hospital.
If you leave the hospital and plan to return the same day, you will be screened again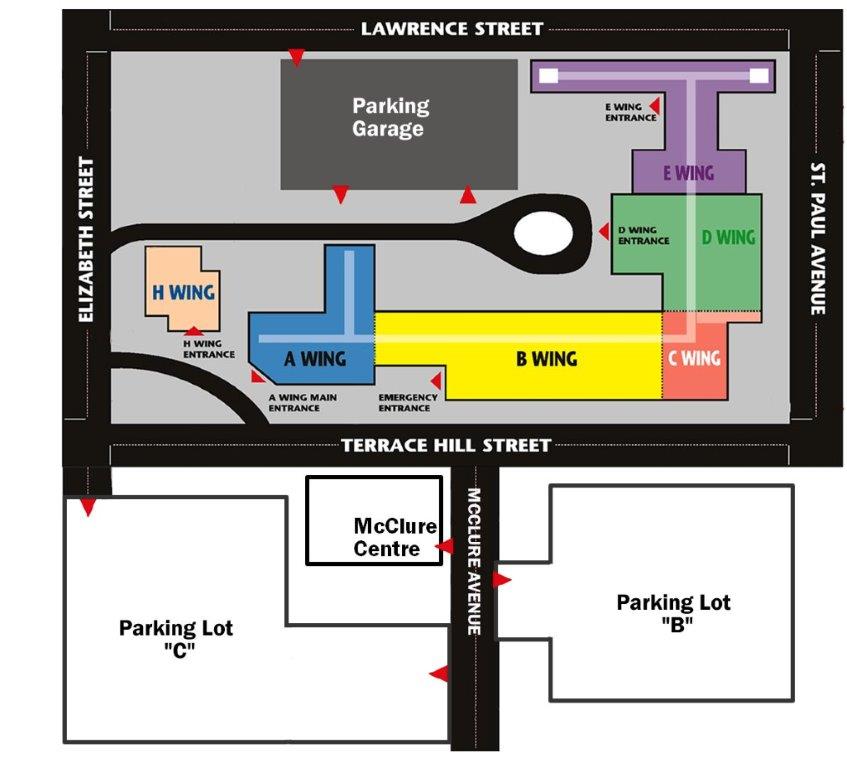 Keeping Patients Safe
Universal Masking
The Brant Community Healthcare System is providing masks to all outpatients, visitors, and staff entering our hospitals.
Click here for information on how to properly wear a mask.
Physical Distancing
We are using environmental cues around the hospital to encourage physical distancing, including signage and roping off every other chair in waiting rooms and using tape on the floor to encourage distancing in line-ups.
Seating areas in public areas are limited and discouraged.
Staff and physicians are replacing in-person group meetings with virtual meetings using teleconferences and video conferencing when possible.
Enhanced Cleaning
Our Environmental Services team has implemented additional cleaning and disinfection procedures to ensure a clean and safe environment for our patients, staff and physicians.
Screening & Reduced Entrances
We are actively screening for potential risk of COVID-19 with everyone who comes to our sites to ensure the safety and well-being of our people and patients. Please allow for extra time if you are coming to the hospital.
You will be required to enter the building through the D-Wing Entrance at the Brantford General Hospital, and the front entrance of The Willett.
Thank you for your understanding during our ongoing efforts to protect the public, patients, staff and physicians from the potential transmission of the COVID-19 virus.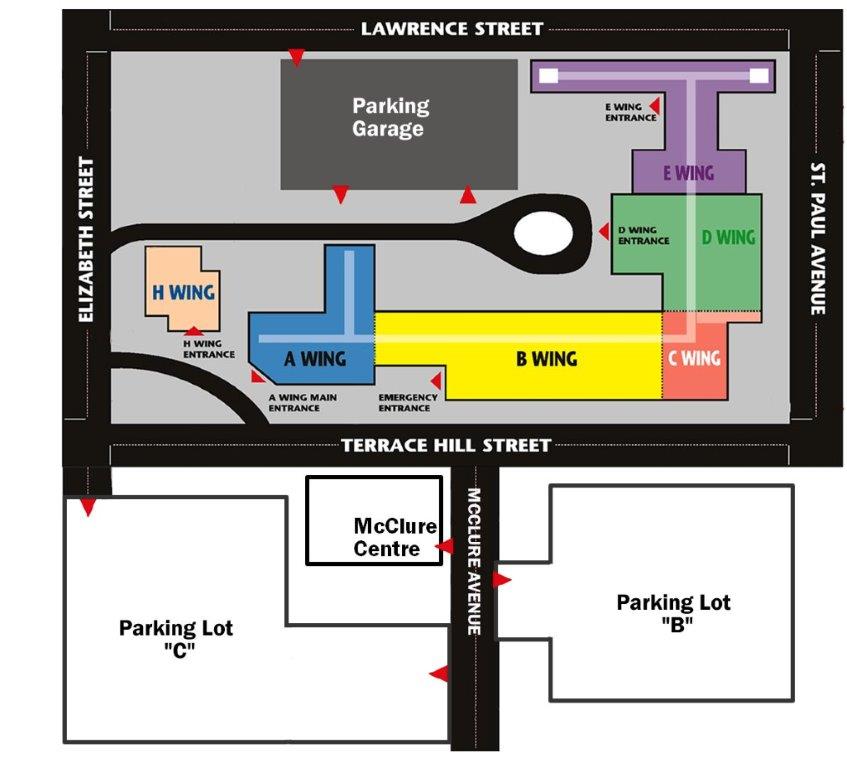 Ways to Donate
We are grateful to the many generous members of our community who have stepped forward with offers of personal protective equipment (PPE) for our staff and physicians. Our staff are safe and currently have the right PPE to do their jobs but COVID-19 demands can change quickly.
We kindly request that anyone who would like to make a donation of PPE, or supply PPE by other means, please contact us first. We are working swiftly to ensure donations that we require and can accept, meet national standards for PPE use in a health care setting, and align this equipment to our current products.
Anyone looking to donate or supply products please email foundation@bchsys.org or call us at 519-751-5510 and provide:
Product description
Product code
Identify if the equipment is unused, unopened and unexpired
Contact name, email and phone number
Changes to Scheduled and Elective Services and Outpatient Activity
BCHS has reduced scheduled surgeries and outpatient activity following the direction of the Ministry of Health and Ontario's Chief Public Health Officer. Patients affected by these changes will be notified by their care team for further information.
We will continue to assess and make changes as needed as the province's pandemic response plan evolves. The following actions support local containment and will help reduce possible exposure for all staff and physicians to COVID-19 while conserving resources for urgent needs.
Daily Testing Updates
Links & Resources
Other resources: