COVID-19 (novel coronavirus)
Updated April 2, 2020
As the global situation rapidly evolves, BCHS will continue to take a proactive and rigorous approach to ensure we are prepared to respond to the situation locally, should the need occur.
Below are some important questions and answers regarding COVID-19 and BCHS. For updated information on COVID-19 in the province visit https://www.ontario.ca/page/2019-novel-coronavirus and for local information visit https://www.bchu.org/.
How is BCHS preparing for COVID-19?
BCHS has robust screening and infection prevention and control procedures in place. BCHS has been working closely with the Ministry of Health (MOH), and the Ontario Hospital Association on provincial readiness. BCHS is also working with local partners including Brant County Health Unit, EMS, and community providers.
We have adequate stock of all needed supplies and equipment should they be needed.
Each patient is screened for respiratory illness and asked about recent travel to assess against current risk criteria. If they meet that criteria, appropriate isolation steps are immediately taken.
I have symptoms of COVID-19 (fever & new/worsening cough), what should I do?
1. Complete a self-assessment at https://www.ontario.ca/page/2019-novel-coronavirus to determine if a clinical assessment is necessary
2. If the self-assessment does indicate that a clinical assessment is necessary contact:
Your family doctor
Telehealth Ontario: 1-866-797-0000
3. If you are unable or unsure if you need to see a family physician, call the BCHS COVID-19 hotline at 519-751-5818 to determine if you need an assessment.
If you require urgent care and are in distress call 911 or visit the Emergency Department immediately.
Visitor Restrictions During COVID-19
Effective March 20, Brant Community Healthcare System is making further changes to protect our staff, physicians and patients by asking that family and friends refrain from visiting patients. Exceptions will be made for some visitors and caregivers.
Exceptions circumstance criteria include:
Hospice/End of life care
Pediatric care
Urgent Ambulatory Care/Surgical care
Maternity/Labour and delivery
If you have any questions, please connect with the care team of your loved one's for more information. To be connected to a care team, please call switchboard at 519-751-5544 ext.0 for more information.
COVID-19 Assessment Centre
The Brant Community Healthcare System is operating a COVID-19 Assessment Centre at Brantford General Hospital D-wing entrance. This clinic will determine whether you need more medical care and/or testing for COVID-19.
The Assessment Centre will see individuals by appointment only.
Before going to the assessment centre, please complete the following steps:
Complete the 2019 Novel Coronavirus (COVID-19) self-assessment at https://www.ontario.ca/page/2019-novel-coronavirus
If the self-assessment indicates that clinical assessment should be done, please contact:

Your family doctor
Telehealth: 1-866-797-0000
3. If your family doctor or Telehealth think you need to be seen at the assessment centre call the BCHS
hotline at 519-751-5818 for further assessment to ensure you meet the assessment criteria.
If you start experiencing worsening symptoms and require urgent care, please visit the local emergency department or call 911.
Assessment centre process:
At the assessment centre you will be examined by a nurse who will determine whether or not a test is required based on the most up to date guidance from public health. If a test is required, a swab will be taken and sent to the lab. If your symptoms are low severity and do not require hospitalization, you will be sent home to self-isolate while awaiting your results from your local health unit. Should you experience severe symptoms, necessary precautions will be taken.
People getting tested at the Assessment Centre will not be allowed to have visitors unless:
An adult accompanying a child who is a patient
A frail older person
A person with a disability
An interpreter for a patient
Not all people who have an appointment at the Assessment Centre will get tested. A nurse will determine whether or not testing for COVID-19 is necessary after they examine you.
Hours:
Monday Sunday: 8:00 a.m. – 4:00 p.m.
Brantford General Hospital: 200 Terrace Hill St
Brantford, ON N3R 1G9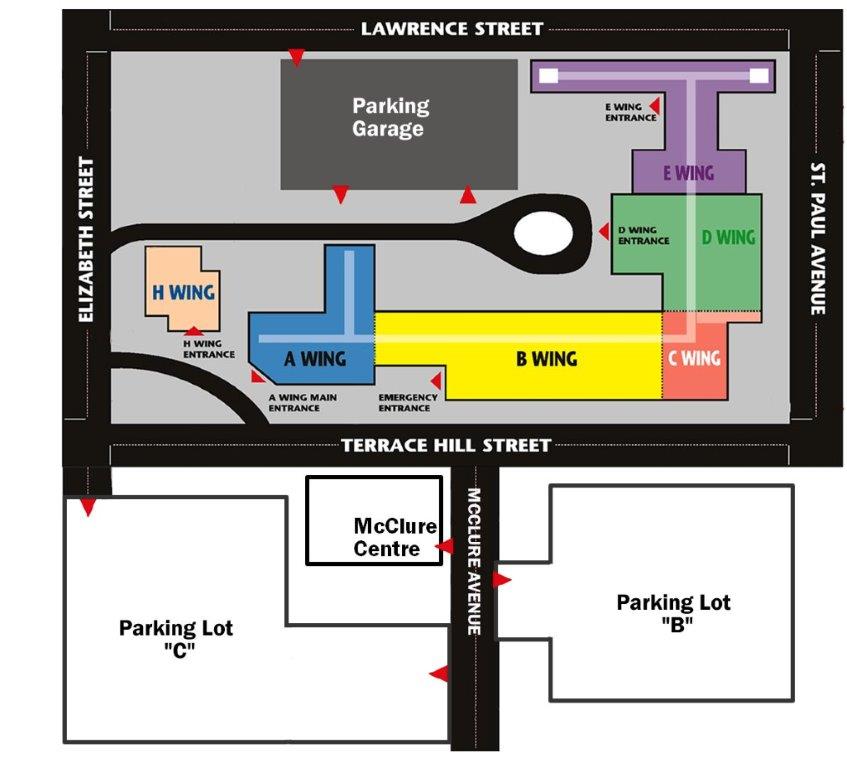 Ways to Donate
We are grateful to the many generous members of our community who have stepped forward with offers of personal protective equipment (PPE) for our staff and physicians. Our staff are safe and currently have the right PPE to do their jobs but COVID-19 demands can change quickly.
We kindly request that anyone who would like to make a donation of PPE, or supply PPE by other means, please contact us first. We are working swiftly to ensure donations that we require and can accept, meet national standards for PPE use in a health care setting, and align this equipment to our current products.
Anyone looking to donate or supply products please email foundation@bchsys.org or call us at 519-751-5510 and provide:
Product description
Product code
Identify if the equipment is unused, unopened and unexpired
Contact name, email and phone number
Changes to Scheduled and Elective Services and Outpatient Activity
BCHS has reduced scheduled surgeries and outpatient activity following the direction of the Ministry of Health and Ontario's Chief Public Health Officer. Patients affected by these changes will be notified by their care team for further information.
We will continue to assess and make changes as needed as the province's pandemic response plan evolves. The following actions support local containment and will help reduce possible exposure for all staff and physicians to COVID-19 while conserving resources for urgent needs.
Health Professionals Update
David McNeil, President and CEO of the Brant Community Healthcare system and Dr. Elizabeth Urbantke, Acting Medical Officer of Health for the Brant County Health Unit will be publishing regular updates to Health Care professionals regarding COVID-19.
Where can I get more information or stay up to date?