COVID-19 (novel coronavirus)
Updated May 12, 2021
Brantford Brant is currently in Grey Zone - Lockdown and under a Stay at Home order from the province. Click here for more information about what each zone means and the current restrictions in place. PLEASE NOTE: The BCHS Visitor Policy is up to date. Details can be found below under the tab: Visiting Hours and Information during COVID-19.
COVID-19 Vaccine Update
The Brant County Health Unit continues with the COVID-19 vaccination rollout as set out by the Ontario Ministry of Health. For more information, please visit the COVID-19 vaccine page of the Brant County Health Unit. NOTE: Vaccinations are NOT available at the COVID-19 Assessment Centre.

Keeping You Safe
BCHS has strict safety precautions in place to keep everyone safe during the COVID-19 pandemic including patients, visitors, employees, physicians and the community. As the pandemic continues, we'll keep you informed with the most up-to-date information available.
| Current COVID-19 Patients at BCHS | |
| --- | --- |
| Total number of patients with confirmed COVID-19 | 8 |
| COVID-19 patients - critical care | 4 |
| COVID-19 patients - other | 4 |
Please Note: Numbers reported may vary from those posted by the Brant County Health Unit as some patients may reside outside of Brantford-Brant.
| Current COVID-19 Outbreaks at BCHS | |
| --- | --- |
| Brantford General Hospital | C2 Integrated Stroke Unit |
Please note: Units in outbreak are closed to visitors.
What to do if you think you have COVID-19
For an updated list of COVID-19 symptoms please see Symptoms and treatment information issued by Province of Ontario
If you think you have symptoms or are feel you may have been exposed to COVID-19, please visit the COVID-19 Assessment Centre located at the Brantford Civic Centre. You must schedule an appointment to be tested. No walk-ins accepted. For details on hours and location see the COVID-19 Assessment Centre tab below.
If you need urgent care and are in distress call 911 or visit the Emergency Department immediately.
Hospital Care for COVID-19-Positive Patients
BCHS is working together with all hospitals across the greater region including Hamilton, Niagara, Haldimand, Norfolk and Burlington to provide care for patients who are COVID-19 positive. For information about COVID-19 hospital care available click here.
COVID-19 Assessment Centre & Appointment Booking
COVID-19 Assessment Centre
Brantford Civic Centre
IMPORTANT NOTE: COVID-19 Vaccinations are NOT available at the COVID-19 Assessment Centre. Please visit the COVID-19 vaccine page of the Brant County Health Unit for vaccination locations and booking information.
Brant Community Healthcare System's COVID-19 Assessment Centre is located at the Brantford Civic Centre Auditorium, 79 Market Street South. We have expanded hours, assigned additional staff and updated booking options to address higher demand for testing - click here to access our new online self-booking tool, available 24/7.
The Assessment Centre does not accept walk-ins. You must schedule an appointment in advance to be tested.
PLEASE NOTE: When there is high demand for testing, wait times and bookings may take longer than usual. Please know we are doing everything possible to provide timely testing and we appreciate your patience and understanding.
Who is Eligible for Testing?
The assessment centre will address necessary steps if testing for COVID-19 is required based on symptoms, travel history and/or exposure to confirmed COVID-19 cases. As of September 24, 2020, the Ontario government provided updated criteria for COVID-19 testing stating that individuals can be tested if they:
are showing COVID-19 symptoms
have been exposed to a confirmed case of COVID-19 informed by the Brant County Health Unit or an exposure notice received on the COVID Alert app
are a resident or someone who works in a place that has a COVID-19 outbreak
are eligible for testing as part of targeted testing by the Ministry of Health and the Ministry of Long-Term Care
If you meet any one of the above circumstances, please contact the Brant Community Healthcare System to arrange for testing. You can also take the Ministry of Health's self-assessment to help you decide if you need a test.
How to Book an Appointment:
New: To book a test at the COVID-19 Assessment Centre, click here to access the online self-booking tool, available 24/7.
You can also book an appointment in advance by emailing Covid.assessment@bchsys.org with your name and telephone number, or by calling the hotline at 519-751-5818, available Monday-Friday 9:00am-5:00pm.*
If your symptoms get worse and you need urgent care, please visit the local emergency department or call 911 immediately.
PLEASE NOTE: For the safety of all patients, families and staff, visitor restrictions are in place. People being tested at the Assessment Centre will not be allowed to have visitors unless they meet the following criteria:
An adult accompanying a child who is a patient
A frail older person
A person with a disability
An interpreter for a patient
Hours and Location
NOTE: Beginning Monday, March 29, 2021, new hours for COVID-19 testing will be:
Hours:

Monday to Friday: 8am to 8pm
Saturday and Sunday: 8am to 4pm
Location:
79 Market St S, Brantford, ON N3S 2E4
Map of Location
How do I access my COVID-19 test results?
There is a user-friendly online portal where you can easily access your COVID-19 lab test results.
What You Can Do to Stop the Spread
To help keep everyone safe, please follow all health safety measures – keep a safe physical distance of at least two metres from others, wear face masks, wash or sanitize your hands often and please stay home if you're not feeling well – even if you have mild symptoms. If we all work together, we can help stop the spread of COVID-19. Stay healthy – Stay safe.
Visiting Hours and Information
Updated Visitor Policy at BCHS
At this time, visitors are not permitted, with the exception of essential caregivers/support persons.
Essential caregivers/support persons are:
Individuals who are designated by the patient or substitute decision-makers as persons who provide direct support to a patient requiring cognitive support, physical care, emotional support and/or cultural/language interpretation support.
Brant Community Healthcare System continues to provide updates to its visitor policy. The latest policy update took effect Thursday, April 29, 2021 considering continued community spread of COVID-19 and to address hospital capacity issues.
We will continue to review BCHS hospital visitor policy and guidelines regularly to ensure the safety and wellbeing of everyone at our hospital sites.
To view the visitor policy please visit the Visiting Hours and Information page of the BCHS website.
Pausing Scheduled Care at BCHS
In response to the directive issued by Ontario Health on April 8, 2021, BCHS continues to adjust operations to meet the challenges related to the third wave of the pandemic. This means non-emergent/non-urgent surgeries and care may be postponed.
You will be contacted by BCHS if there is a change to your appointment or procedure. Otherwise please attend your scheduled appointment. If you have questions or concerns, please contact your doctor's office for guidance.
If you are having a health emergency, go to the Emergency Department or call 911. Hospitals remain safe places to receive care. We appreciate your patience and understanding.
Keeping Patients Safe
Universal Mask Policy in Effect
Brant Community Healthcare System is providing masks to all patients, visitors and staff entering our hospitals.
PLEASE NOTE: For everyone's safety, ALL patients and visitors are required to wear a medical mask at BCHS sites. Medical grade masks will be provided by BCHS when a patient is admitted and for everyone at hospital entrances.
To ensure you have a positive experience while visiting BCHS hospital sites, please remember the following:
When coming into the hospital, patients and visitors will be asked to remove their masks and wear the hospital-provided mask.
If a patient or visitor wishes to double-mask, masks provided by the hospital must be put on first, with their own mask worn as the top layer.
Patients must wear their mask when a health care worker or visitor is present in their room, and when the patient leaves their room.
Visitors must wear their masks at all times in the hospital. Eating or drinking is not permitted at hospital locations.
Exceptions to our BCHS mask policy may be considered on a case by case basis only.
Click here for information on how to properly wear a mask.
Physical Distancing
BCHS has strict safety precautions in place with signs posted around the hospital to ensure you are keeping a safe, physical distance of 2 metres/6 feet from others. Waiting room areas have been modified - every other chair in waiting rooms and floors are roped off and marked to ensure and encourage safe distancing in line-ups.
There is limited seating in public areas and we are currently discouraging using these areas.
Staff and physicians are not meeting in-person. All group meetings are taking place virtually using telephone and video conferences.
Enhanced Cleaning
The Environmental Services team at BCHS is following strictly enhanced cleaning and disinfection procedures to ensure a clean and safe environment for our patients, staff and physicians.
Screening & Reduced Entrances
We are actively screening for potential risk of COVID-19. Everyone who comes to our sites must be screened before entering to ensure the safety and well-being of everyone. Please allow for extra time if you are coming to the hospital.
If you are seeking Emergency Care, please go directly to the Emergency Department entrance at Brantford General Hospital.
Patients and Visitors may use the A Wing Entrance at BGH ONLY for:
Pediatrics
Dialysis
Diagnostic Imaging
Labour and Delivery
All other Patients and Visitors must enter through the D Wing Entrance.
If you are seeking non-emergency care at The Willett, Paris, please enter using the front entrance.
Thank you for your patience understanding during the COVID-19 pandemic. Our ongoing efforts are designed to protect the health and safety of our patients, staff, physicians and the community from the potential transmission of the COVID-19 virus.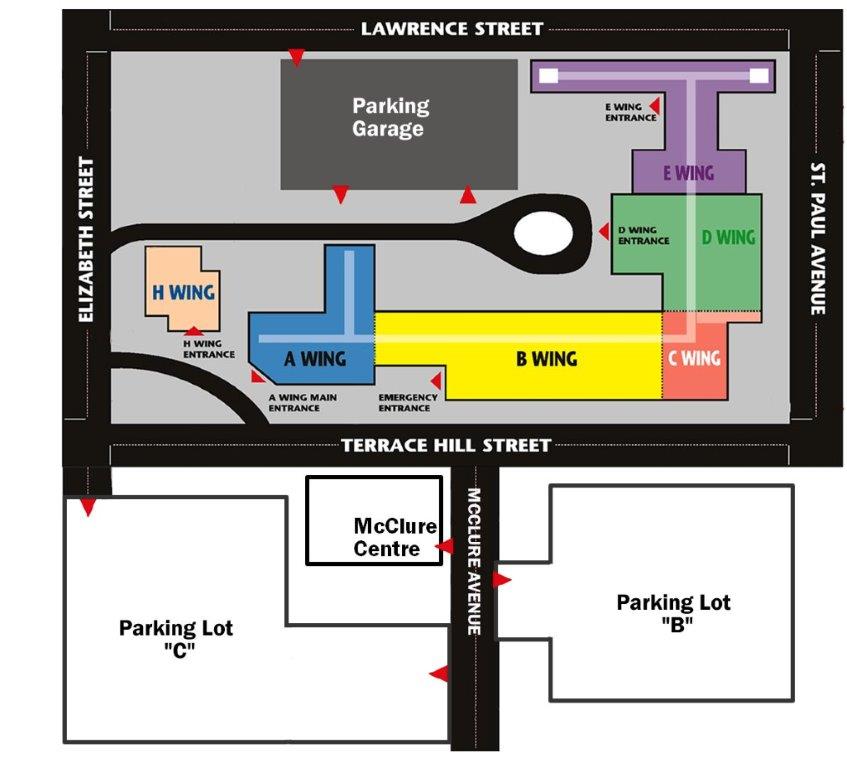 Ways to Donate
We are grateful to the many generous members of our community who have stepped forward with offers of personal protective equipment (PPE) for our staff and physicians. Our staff are safe and currently have the right PPE to do their jobs but COVID-19 demands can change quickly.
We kindly request that anyone who would like to make a donation of PPE, or supply PPE by other means, please contact us first. We are working swiftly to ensure donations that we require and can accept, meet national standards for PPE use in a health care setting, and align this equipment to our current products.
Anyone looking to donate or supply products please email foundation@bchsys.org or call us at 519-751-5510 and provide:
Product description
Product code
Identify if the equipment is unused, unopened and unexpired
Contact name, email and phone number
Daily Testing Updates
Links & Resources
Other resources: