The DOVE Program Brings Holistic Healing to Dementia Care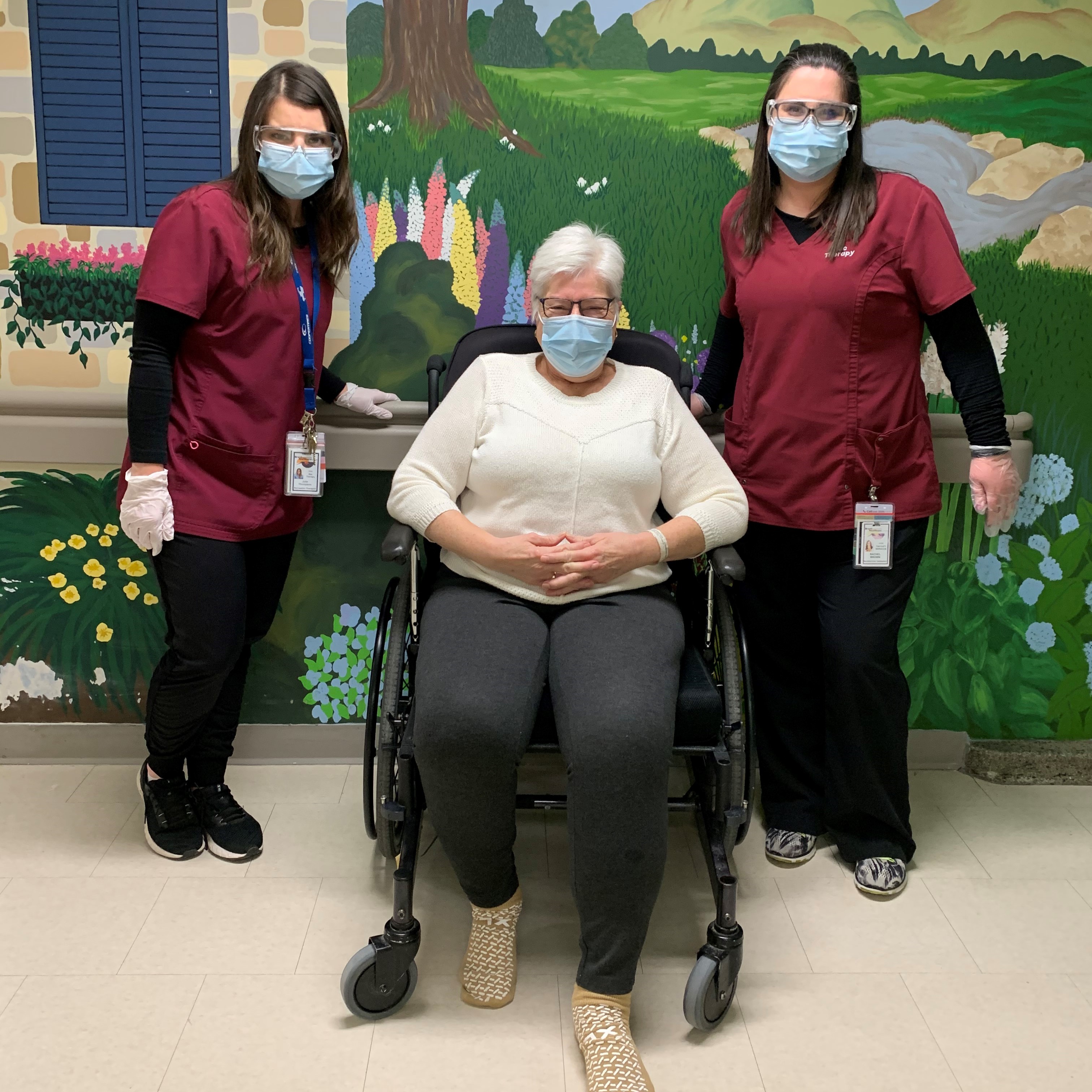 Just as the dove is a symbolic representation of peace and love, so too is The DOVE Program at the Brant Community Healthcare System. Created by recreational therapists Rachel Brown and Julie Thompson, this program was built on the essence of personalized patient care through recreational therapy, adaptable leisure activities, and holistic healing.
What is The DOVE Program?
The DOVE Program stands for Dementia Care, Opportunity, Validation, and Empathy. It involves utilizing evidence-based Recreation Therapy techniques to enhance cognition, memory, and support, for the dementia population in Complex Care. Daily programming is focused on providing purpose, autonomy, social connectedness, and stimulation to combat increased loneliness while improving strength and cognitive functions.
Program therapies include music, chair exercises, reading groups, validation groups, error free interventions, creative expressions, and a stimulated environment. While these are only a few examples, all DOVE Programs utilize a strength based approach with non-pharmaceutical interventions.
Mary's story: "The involvement they had with each and every one of the people was amazing"
It was in December of last year when Mary Kaus found herself at Brantford General Hospital after suffering a significant leg injury. Now in her 70's, this was the first time Mary had ever been away from her husband in 50 years, and because of COVID protocols, she was also away from family and locked down on Complex Care. Having never been admitted to a hospital before, Mary was scared and unsure of what life would be like over the next several months as she navigated her road to recovery.
It was only when The DOVE Program began shortly after her arrival that her spirits truly lifted. Speaking about her recreational therapists Rachel and Julie, Mary said "the involvement they had with each and every one of the people was amazing – everybody had a name, everybody had a story."
During her time in the program, Mary participated in a number of different recreational therapies, all the while encouraging co-patients to embrace the program and be their best self.
"It's all about love," says Mary. "This group is phenomenal […] they're unbelievable. It got to the point towards the end where I didn't want to leave because they made me feel like family."
Mary has since been discharged from BCHS, however she is eager to give back and plans on volunteering with The Dove Program in the near future. "For what I was shown and given, I have to give back."
When reminiscing on her time in The Dove Program, Mary recalls that she learnt about care, love, compassion, and treating everybody as an equal. "You can't teach empathy, it has to be in your soul […] and it's in their soul."
Bringing the program to life
Knowing the powerful impact that recreational therapy has on a patients' recovery, Rachel and Julie were eager to get the program started. "The unique piece with rec therapy is that each patient has their own goals or treatment plan, but they can all come together and work on something different," says Rachel, "so it's not black and white, it's colourful."
By removing barriers to work on individual patient goals, Rachel and Julie have been able to build rapport with patients and their families in order to provide a level of care that emphasises worth, purpose, and healing.
When reminiscing on their time with Mary, Julie and Rachel had nothing but fond memories, stating that she was a real champion of the program. Julie goes on to say that "she brought a level of understanding and compassion to the patients that have dementia. Her kindness spread within the unit."
Rachel adds, "I feel so proud and honoured to work with this population. Moving forward, now more than ever, people need a holistic approach to care."
Program displays positive outcomes
Observational data from The DOVE Program has shown that patients displayed a decrease in behaviours and appeared to have an improvement in mood while simultaneously increasing their ability to participate and socially interact.
Ultimately, The DOVE Program benefits patients who are transitioning to long-term care, provides interventions with positive patient outcomes, increases safety within the unit, and provides meaningful activities while supporting overall wellbeing.
Rachel and Julie are both strong advocates for the benefits of recreational therapy and accessible leisure activities. "Everyone wants to be seen and heard. Everyone deserves leisure. It's about finding that spark – it's the spark."
What's next?
The DOVE Program started as a 6 month pilot project earlier this year, however with the support of management and staff, the program has been extended with the hopes of finding a permanent home at BCHS.
"We will continue to advocate and provide education any way we can to show the benefits of recreational therapy."