Santa Claus is coming to town… and his name is Mike McGraw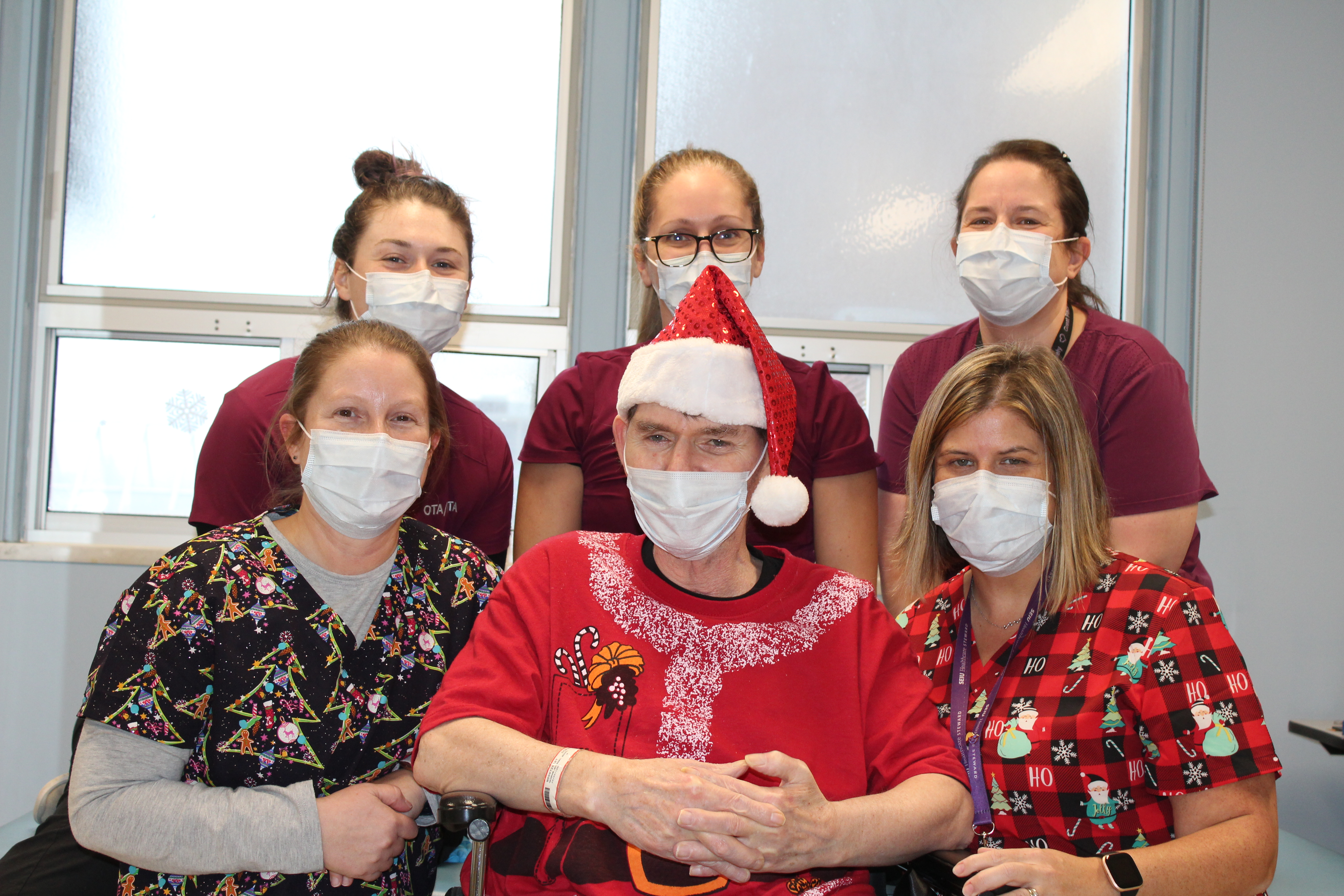 Mike McGraw might pretend to be shy when you meet him for the first time, but the 63-year-old is anything but.
A long-term patient on the B2 Rehabilitation floor, he is the life of the party and the self-appointed king of the floor. His care team agrees. With an infectious attitude, he's working hard to make everyone happy and spread Christmas cheer - and he has great results! You can't help but smile as you chat with him.
Born in Florida in 1958, Mike was raised by his grandmother, who seems to be the source of his energy. Having lived "all over" in his life, he is now happily settled in Holmedale, where he owns a house with his roommate and a dog he claims can fit into his pocket. They look after each other.
Mike sustained an Acquired Brain Injury in a car accident many years ago – he thinks maybe when he was in his twenties – and has been in and out of treatment a few times since then. This time, he's been on B2 for 70 days in the Activation and Restoration Program. He works with physiotherapists, nurses, and occupational therapists daily to gain his strength and independence back.
Getting back to independence
The rehabilitation program at Brantford General Hospital offers the full spectrum of therapies for the county. Their patients working to gain back independence from injuries sustained in accidents, falls, or surgeries. Each patient's program is tailored to their specific goals, so the days look different for everyone.
As part of his daily rehabilitation routine, Mike will go for walks, use two different exercise bikes, complete obstacle courses, and participate in group and individual therapy classes. His energy is almost boundless, and he often has to be told to stop exercising. When his energy is not being channeled into exercise, he's probably singing or performing one of his improvised acts for the care team and his fellow patients. He is cheerful and constantly cracking jokes. Once he knows what will make you laugh, he'll keep it up. He loves watching stand-up comedy and channels his favourite performers in his own act.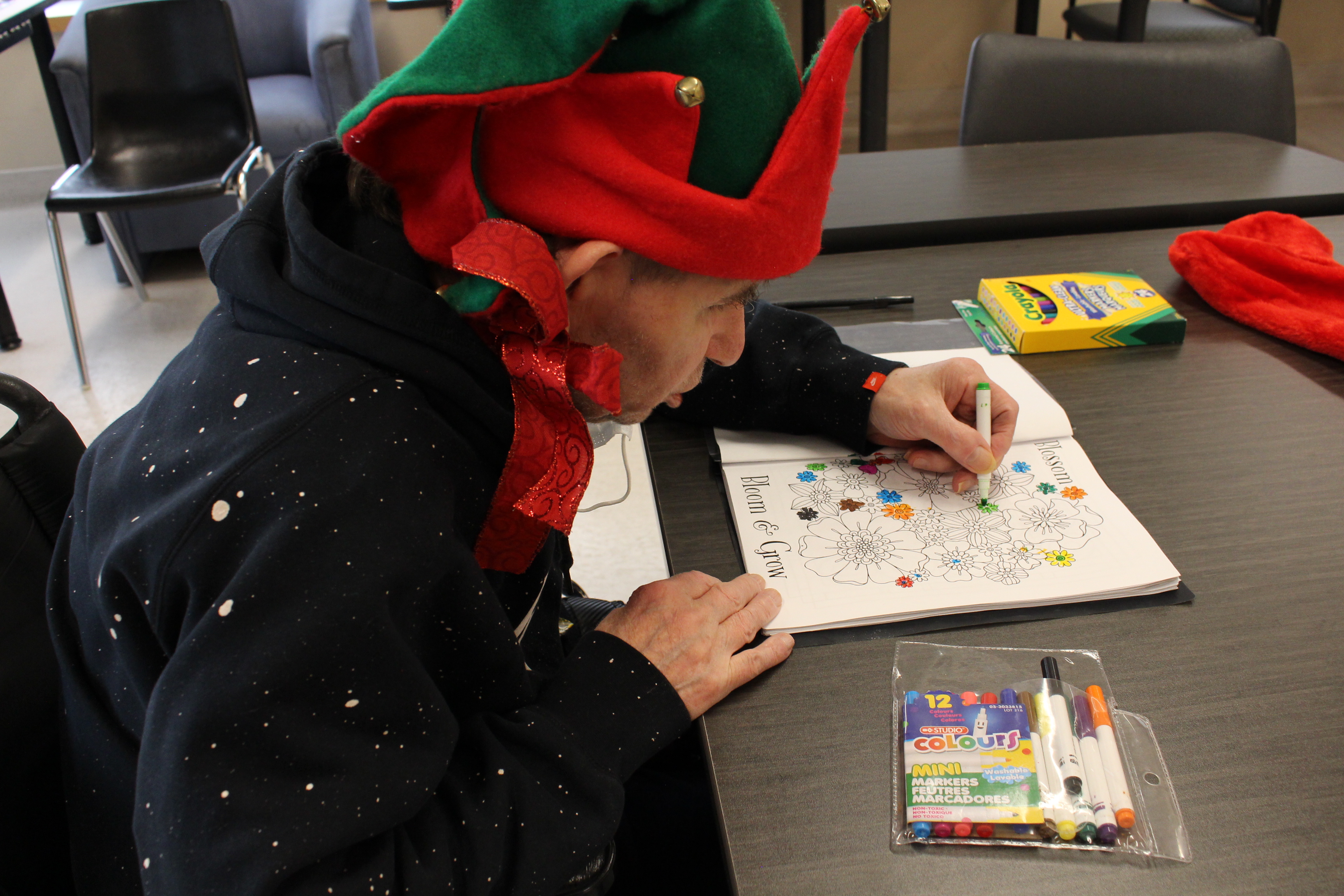 His mission to spread his good mood is not limited to his singing and performing – he also will write thank you notes to everyone involved in his care, including the kitchen staff and the staff on the floor. He is determined that everyone who crosses his path will share his happiness, even if for a moment. Spending time in the hospital isn't easy for anyone, and he knows the importance of a positive mindset, which can help in a patient's recovery. He's made excellent progress in his recovery too, strengthening his motor skills and exercises every day. One of his favourite rehab activities is colouring, and he gifts his artwork to his fellow patients and care team. His other favourite activities are eating, spending time in the chapel where he practices his Roman Catholic faith, and singing – he is known to treat his fellow patients and care team to classic Christmas favourites, including an altered-lyrics version of "Santa Claus is Coming to Town."
"He brings so much joy to everyone on the floor," says Melanie Cameron, one of his physiotherapists. "He definitely makes us all smile."
Sharing the Love
When asked if there was any one thing he wanted people to know about him, Mike's message was simple: "I love everyone. Doesn't matter if I know you or not. I love you."
As we approach the holidays, the team at Brant Community Healthcare System is finding creative ways to spread holiday cheer amongst the staff and patients. However, as Mike McGraw has demonstrated, the employees, medical staff, and physicians aren't the only ones taking this on. Wishing the entire BCHS community a holiday season full of music, love, and good cheer!