NGH announces temporary transition of Labour and Delivery to BCHS as part of our COVID recovery plan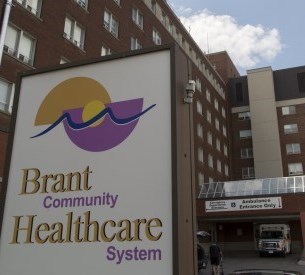 FOR IMMEDIATE RELEASE
September 7, 2021
NGH announces temporary transition of Labour and Delivery to BCHS as part of our COVID recovery plan
Norfolk General Hospital (NGH) is temporarily transitioning obstetrical care to the Brant Community Health Care System (BCHS) where both hospitals are committed to preserving prenatal and gynecological care for the residents of Haldimand Norfolk. With a heavy heart, we have concluded that these services will temporarily close at NGH on September 13, 2021. The transition to BCHS is expected to last between 12 to 18 months.
The temporary closure is due in part to a nursing shortage across Canada which includes Haldimand-Norfolk.
"We are all very saddened by this," said Obstetrician-Gynecologist Dr. Brian Ferguson. "It's something that none of us wanted to do. Our Senior Leadership Team tried their very best to prevent this from happening. Unfortunately, there is a nursing shortage crisis across Canada, including the province of Ontario. We can all agree that we have to put patient safety first."
A comprehensive transition plan with BCHS is underway to ensure that expectant mothers continue to have access to high-quality prenatal care.
NGH Interim President and CEO Kim Mullins says staff at Norfolk General have had the privilege of bringing tens of thousands of babies into the world since the hospital opened in 1925 and the decision to close the obstetrics, labor and delivery unit did not come without exhausting every option available.
"COVID-19 has really hit us hard, and the recovery phase is going to be much longer than anyone of us anticipated. For the safety of our patients, we need to transition birthing to BCHS in the hopes that we will bring the program back to Norfolk General when things stabilize. That is our goal, and we will continue to work towards that. We had had positive conversations with BCHS and OH West, and they are very supportive and receptive to ensure we maintain gynecological and prenatal services in Haldimand-Norfolk."
NGH understands this change may be concerning to families that are expecting. All expectant mothers will be contacted by their healthcare provider to discuss their plan of care going forward. Please be assured all mothers and babies will receive safe and quality care with our partners at BCHS.
"We are pleased to work with our partners at Norfolk General Hospital to support continued access to high-quality obstetrical services for patients and families residing in HaldimandNorfolk", said Dr. David McNeil, President & CEO of BCHS.
If the COVID-19 pandemic has taught us anything, it's the importance of healthcare. The people of Haldimand-Norfolk have relied on our team to be there for them in their time of need— often when they are most scared and vulnerable.
"As we enter the 4th wave of the pandemic, I want to take a moment to acknowledge the swift response of our NGH team," said Mullins. They pulled together, once again, when called to action. Thank you for everything you do to keep our patients and families safe, and for supporting each other and our healthcare partners in serving our community. I hope each of you finds comfort knowing you are helping others and your work is appreciated. Together, we will get through this, as we always do."
-30-
Media Contacts:
Aaron Gautreau
Director of Communications & Public Relations
Norfolk General Hospital & West Haldimand General Hospital
Office phone: 519-426-0130 ext. 2454
Cell phone: 226-931-5752
Alena Lukich (she/her), HBSc, MBA
Chief Strategy, Quality, Risk & Communications Officer
Brant Community Healthcare System
T: 519.751.5544 ext. 4927
E: alena.lukich@bchsys.org