Increased COVID-19 Activity in Hospital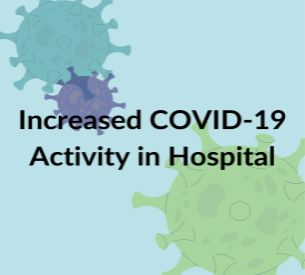 STATEMENT FROM BRANT COMMUNITY HEALTHCARE SYSTEM
April 28, 2022
We are in the midst of a sixth wave of COVID-19 that, like the five waves that came before it, has left everyone tired and uncertain. There is not one person in our community that has not been impacted by COVID-19 and we understand the exhaustion that everyone is feeling – we feel it too.
Unfortunately, our staff and physicians are experiencing an increasing amount of disrespectful behaviour directed toward them. We are doing everything in our power to keep our community safe and healthy, and we are relying heavily on the support of our community as we have for the last two years. We ask all patients and visitors to be patient with our staff and physicians as they work hard to provide care.
Hospitals are high-risk environments with vulnerable populations. We are doing everything possible to keep patients, visitors, and staff safe. Our current visitor policy seeks to balance safety with compassion, allowing essential care partners to be a part of their loved one's recovery while also providing a controlled visiting environment for everyone's safety. This policy is revisited on a regular basis to ensure it is up-to-date and in everyone's best interest. If you are planning to visit the hospital please see our website for the latest guidelines at bchsys.org.
We are currently experiencing COVID-19 outbreaks on B8 Medical Inpatient Unit and C5 Telemetry Unit. These units are closed to visitors until the outbreaks are declared over.
We are currently operating above capacity and have an increasing number of staff isolating due to COVID-19 symptoms or exposure. This has created staffing and capacity pressure that might result in longer waits. We are doing everything we can to address this and appreciate your patience and understanding.
If you plan to visit the hospital, please note the following safety measures are in place for your protection:
Mask mandates remain in place in hospitals and all patients and visitors are requested to keep their mask over their nose and mouth at all times.
For everyone's safety, eating and drinking while visiting patients is prohibited.
Hand hygiene is one of the best ways to prevent the spread of disease and everyone in the hospital is encouraged to use the sanitizer located throughout the building.
Vaccination remains our best defense against COVID-19, and with cases rising again, we encourage everyone to get vaccinated with available boosters to stay safe and well.
Thank you for your ongoing support and cooperation.