Human connection leads to harm reduction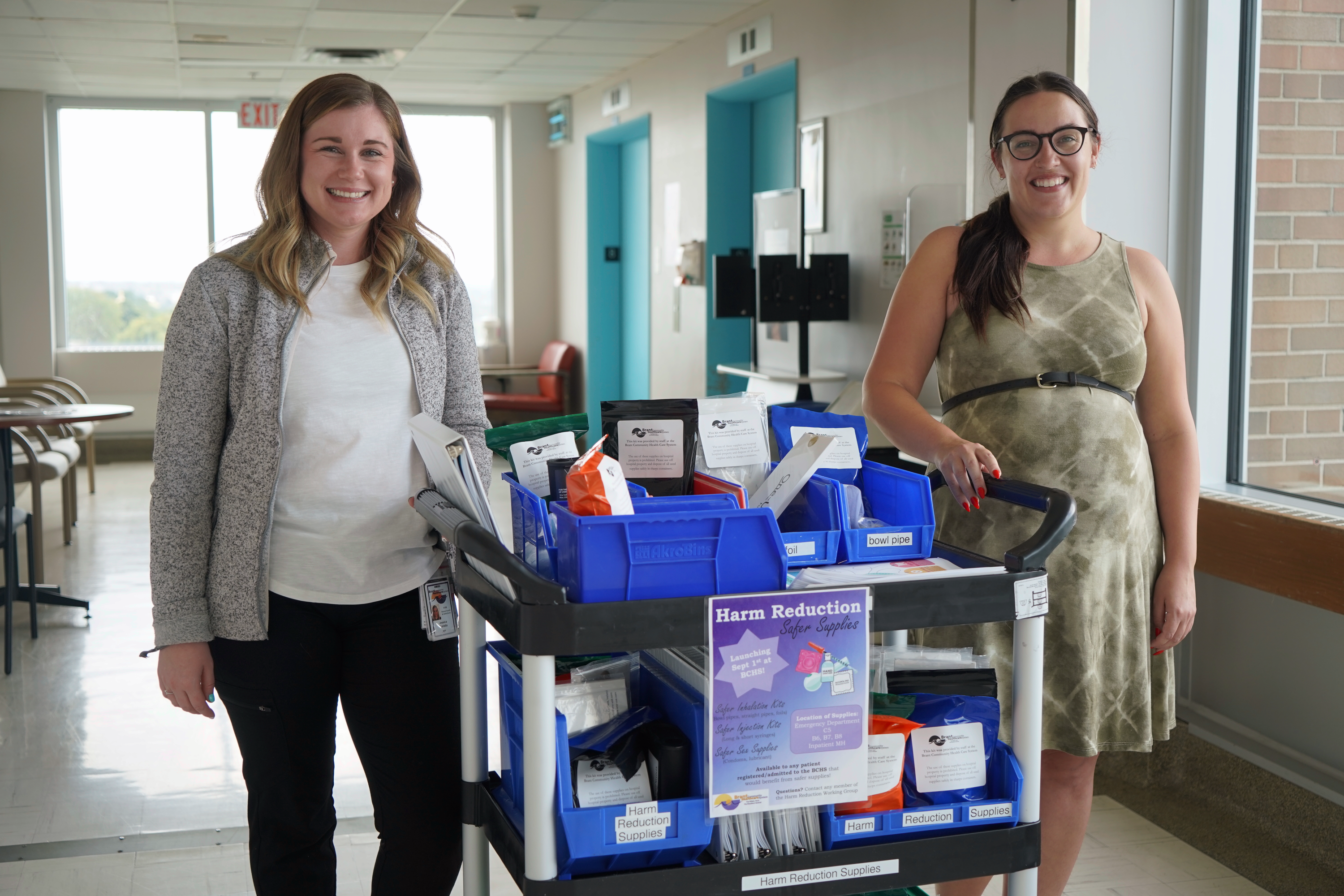 At the risk of sounding cliché, Jessica Mallette, a nurse practitioner, chose to specialize in addictions medicine because above all else, she wanted to help people. "Addictions medicine is an area of medicine and nursing that is most often overlooked and where a lot of stigma resides," she says. "I am extremely passionate about challenging and breaking those stigmas, while working with people who use substances focusing on their individual needs."
Substance use is a complex social issue that has been a priority in Brantford-Brant for many years. The tragic impact of the opioid crisis is felt throughout our community and has increased the urgency for action and individualized, patient-first care.
Brant Community Healthcare System is proud to support a number of harm reduction strategies in our hospital and our community. The Rapid Addictions Support Team (RAST), co-run by Jessica from BCHS and Alana Willemsma, an addictions case manager at St. Leonard's Community Services (SLCS) aims to support individuals in the BCHS Emergency Department, while making connections to community supports such as the Rapid Access Addictions Medicine Clinic (RAAM) and SLCS.
Using a unique combination of their expertise, the RAST team will meet patients in the Emergency Department and continue working with them throughout their time in the hospital and beyond. The work that RAST does in the ED provides an opportunity to address complex medical needs and diagnoses, provide Opioid Agonist Therapy (OAT), and aid in forming connections and warm transfers to supports within the community, like addiction and mental health care, housing, and financial resources. The RAST team also offers a safe place for patients to talk, share their experiences, and define their own needs. This helps to empower individuals and provides the tools they need to move through their own healthcare and social trajectory.
"The work we're doing in the hospital around harm reduction is helping to address stigma bred through myths and misconceptions about people who use substances," says Alana. "A lot of us in this community were raised on the idea of the war on drugs and a 'tough love' approach. My hope with this harm reduction work is that we can refocus on compassion, respect and understanding in both BCHS and throughout our community."
Jessica also formed a harm reduction working group at BCHS, consisting of nurses, social workers, nurse educators, senior leadership, patient and family advisors, and community partners, to address gaps in care offered to patients who use substances. With a wide range of knowledge and expertise, the intent of the group is to not only improve care, but improve the health and social outcomes of people who use substances. The main focus right now is harm reduction capacity building and education within BCHS, including increasing and improving access to safer supplies, like naloxone and safer injection and inhalation supplies. Safer supplies help to prevent disease transmission, overdoses, and provides a safe space for discussions about substance use.
On her inspiration for starting the group, Jessica says: "Because of the stigma that has been created, people who use substances often face a significant number of barriers when accessing healthcare. I hope I can help reduce some of those barriers, even if just for a small population in the community."
Peggy Gautreau, an RN and Nurse Educator in the Emergency Department, is one of the members of the group. She also wants to use her role to educate other BCHS staff and professional staff members on the principles of harm reduction to create a safer and more supportive care environment.
"I was inspired to participate in the harm reduction group because I wanted to support the community in a way we never have before. For some patients, the Emergency Department is their only access to healthcare, and sometimes it is the only option for vulnerable populations. I believe that, as a nurse, I need to help support all forms of harm reduction. I want to assist in making the staff at BCHS more comfortable with harm reduction initiatives as we learn new ways to support our patients."
On August 31, BCHS will join communities across Canada and the world in remembering those who have died or sustained permanent injury due to drug overdose. Learn more at overdoseday.com.