Celebrating Lab Week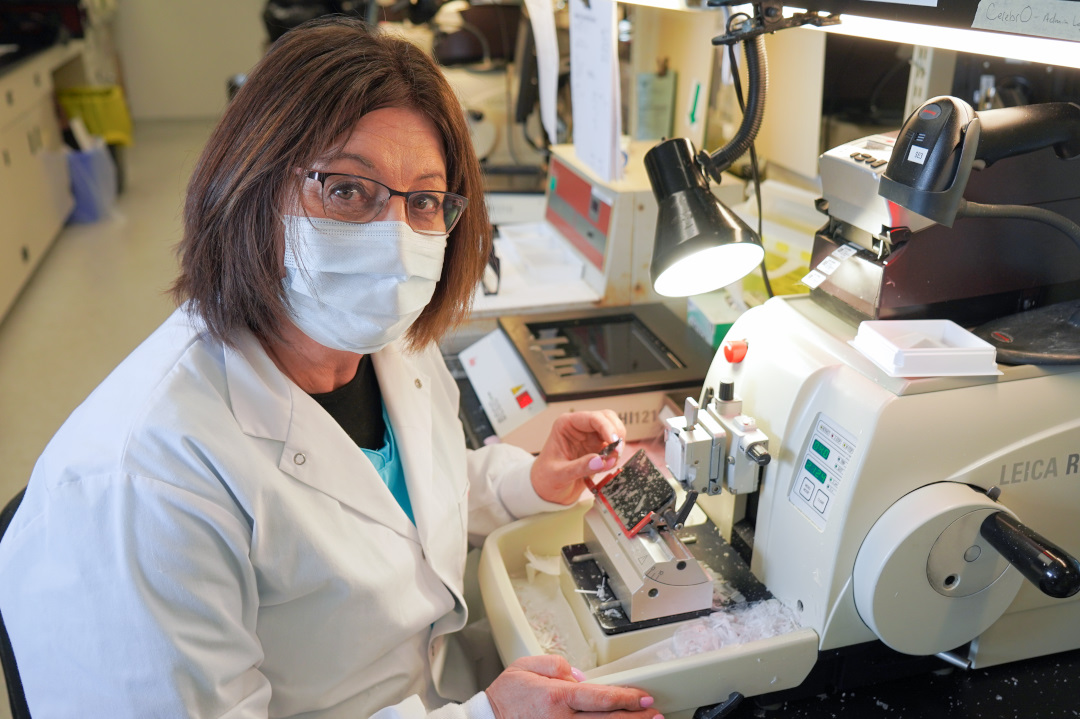 From April 9-15, join us in celebrating Medical Laboratory Week!
Medical Laboratory Professionals play a critical role in patient care. This week, we want to take a closer look at the work our lab teams do and how they see our patients like no one else.
Medical Laboratory Technologist (MLT) - Microbiology
In early 2020, when much of the world slowed down due to the pandemic, our Microbiology MLTs ramped up. Since then, they have processed over 200,000 PCR COVID tests for our hospital and community.
That isn't all they do, though! Microbiology MLTs identify bacteria or viruses causing infection or disease. They test urine, stool, sputum, blood, and wound samples to help with diagnoses and recommend the appropriate antibiotic to assist the treatment of infections. Every year, our Micro MLTs process approximately 322,000 samples.
Photo Gallery: Lab Week -MLT Micro will appear here on the public site.
Medical Laboratory Technologist (MLT) - Pathology
Pathology MLTs prepare samples by embedding, cutting, and staining small sections of surgical samples, which facilitate diagnoses based on tissue specimens. They also perform special and immunohistochemical stains to further aid the findings of the pathologist - this includes testing tissues specimens with antibodies to check for certain antigens (markers) in the samples. The reaction of the markers to the antibodies can help diagnose diseases like cancer, and even to tell the difference between different types of cancer.
Our Pathology MLTs sample 232,000 samples every year.
Photo Gallery: Lab Week - MLT Path will appear here on the public site.
Medical Laboratory Technologist (MLT) - Core
Core MLTs are experts in transfusion medicine, biochemistry, and hematology. They provide a 24-hour service for routine, urgent and STAT testing to aid in life-saving treatment and diagnoses.
Transfusion Medicine is the process by which the MLTs test patients' blood samples to identify compatibility for required transfusion of blood and blood products. Core MLTs work quickly and safely through massive hemorrhage protocols (MHP) to provide lifesaving products that ensure rapid response and intervention for patients experiencing a massive hemorrhage event. Annually, the Transfusion Medicine bench issues 4,000 units of blood and performs 140,000 tests.
Biochemistry technologists perform qualitative and quantitative analysis of biological fluids such as blood, serum or plasma, or urine, for the presence of specific chemicals or physiologic processes such as renal (kidney) function, thyroid, cardiac, therapeutic, and toxic drug levels. 1.3 million tests are processed every year.
Hematology performs a suite of tests including complete blood count, blood differential, smear morphology, and bone marrow staining. These tests aid in diagnosing anemia, certain cancers of the blood, inflammatory diseases, bleeding and clotting disorders. 180,000 tests are performed annually by our hematology team.
Photo Gallery: Lab Week - MLT Core will appear here on the public site.
Medical Laboratory Technicians/Assistants/Phlebotomists (MLT/A)
Under the supervision of MLTs, our MLT/As can conduct routine medical laboratory tests and set up, clean, and maintain medical laboratory equipment. The MLT/A is the heart of the lab, procuring blood samples and processing them for accuracy prior to testing. Throughout the hospital, MLT/As collect over 150,000 blood samples every year.
Photo Gallery: Lab Week - MLA will appear here on the public site.
Pathologist
A pathologist is a physician who interprets and diagnoses the changes caused by disease in tissue and body fluids. They are involved in the vast majority of cancer and anemia diagnoses.
Pathologist Assistant
A Pathologist Assistant works collaboratively with the pathologist in the preparation and examination of tissues in the setting of surgical pathology.
Medical Laboratory Technicians/Assistants (MLT/A) - Pathology
Pathology MLT/As work within the pathology department, under the supervision of Pathology MLT and Pathologist, to perform sample processing, receiving and packaging of specimens for transport, and data entry. Pathology MLT/As will also assist the Pathologist with autopsies.
Photo Gallery: Lab Week - path department will appear here on the public site.