A union against all odds: Brad & Melissa's Story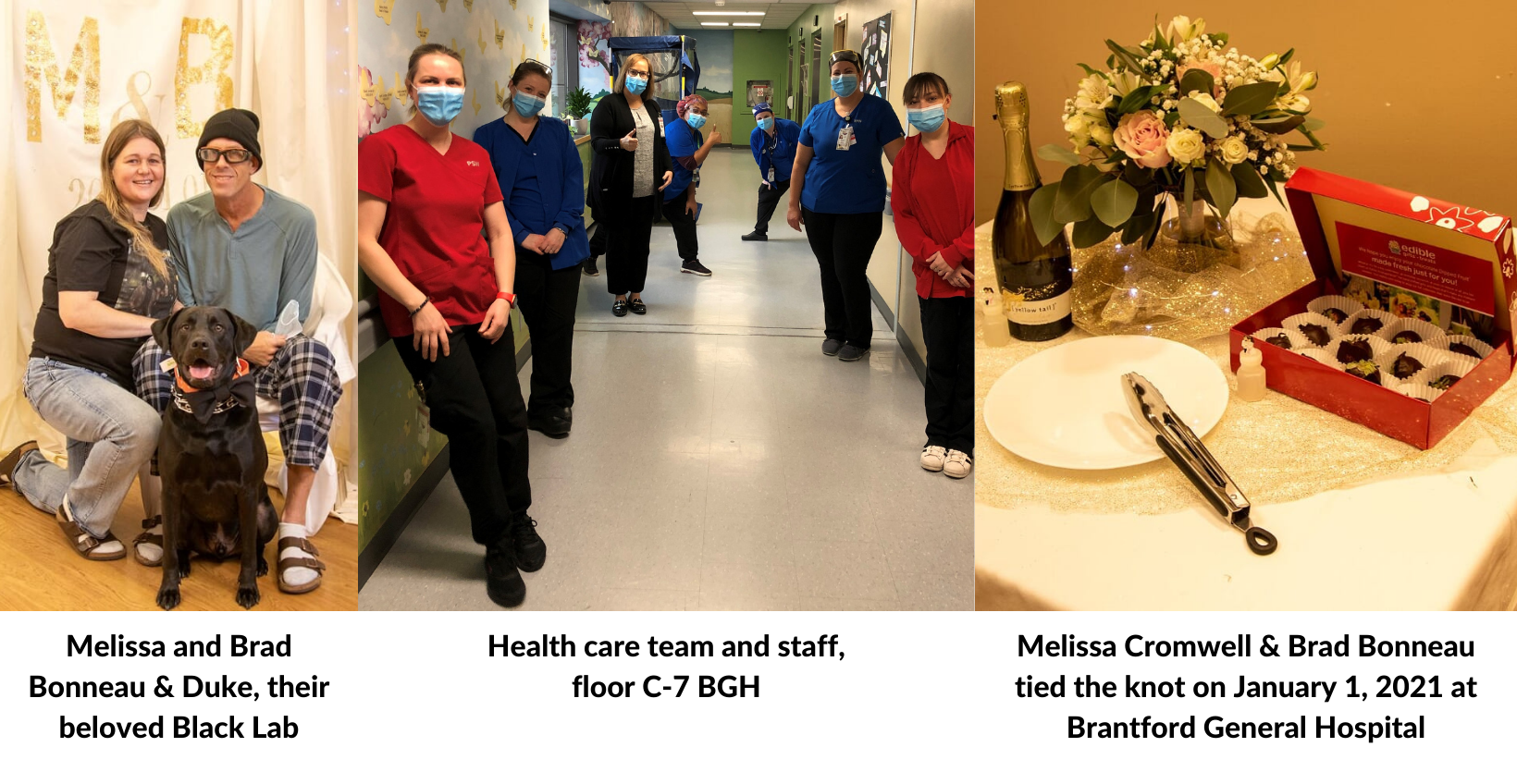 On a roller coaster of highs and lows over a two week period, a Brantford couple managed to realize their dreams against all odds, and with a little help from their care team at Brant Community Healthcare System.
In November on their fourth anniversary as a couple, Brad Bonneau proposed to his best friend, Melissa Cromwell, and the newly engaged sweethearts moved forward with plans to buy a new home in Simcoe.
When everything seemed to be going well for them, a tragic series of events began to play out and, as misfortune would have it, Brad lost his job and health benefits unexpectedly. A short time later, Brad collapsed and was taken to Brant Community Healthcare System.
With Melissa at his side, Brad was admitted to Brantford General Hospital where he was diagnosed with a life-limiting illness. Devastated, the couple turned the focus on their new reality and on making sure Brad received the best care possible. Sadly, plans for their wedding were on hold until Brad met Stephanie Gibson, one of the nurses on his BCHS care team.
"When I was first assigned to care for Brad, we talked about the quick diagnosis and the events leading up to it. When I found out he and Melissa were engaged right before his diagnosis, my first response was to ask if they still wanted to get married," said Gibson.
"While they had talked about it, no decision was made so I let them know if they still wanted to get married, we would make it happen for them."
The whole time Brad was in hospital, he kept thinking about marrying Melissa. "She's been by my side every day to help me get through this," Brad said. "Melissa is my best friend and all I wanted was to be married to her for the rest of my life."
Moving swiftly, Brad's care team and the staff on floor C-7 quickly pulled together plans for a very special hospital wedding.
They put up all the decorations, provided the music, wedding photography and assisted Melissa in how to go about getting a marriage licence from the municipality.
Lana Dunlop, the clinical manager who leads the team on C-7, provided some decadent chocolate truffles for the occasion. There were also flowers, a wedding cake and sparkling wine on hand for the celebration.
"This was a team effort through and through, with the care team and C-7 staff all pitching in to make sure this wonderful couple could have their wedding," Dunlop said. "It was an emotional day for the couple and for everyone on the team. What a joyful gift to witness two people join together in marriage, especially under such challenging circumstances."
The hospital team also arranged for Christine Hossack, BCHS spiritual care practitioner, to officiate the ceremony on January 1, 2021 – a day chosen specially by Brad and Melissa to honour the wedding anniversary of Brad's parents, who could not attend the ceremony.
"We were both overwhelmed with the generosity and commitment of the staff at BCHS to make this happen for us," said Melissa.
"Never in our wildest imagination did we think our wedding would take place in a hospital, but it was beautiful. We couldn't have asked for anything better – it was perfect in every way and we are so grateful!"
When news of the tragedy came before Christmas, a close friend of Brad and Melissa set up a GoFundMe page to help the couple get through an emotional and financially stressful time.
On the page, Kristi Dredge states: "Brad is the type of man who would give the shirt off his back, or drop everything to help…it is our turn to help him."
For now, Melissa and Brad are taking things one moment at a time.
"The hospital staff is so amazing and well-trained, but it's really the compassion in their hearts that makes a difference in the care they provide," Brad said.
"I get emotional just thinking about the people on my care team and all of the staff – Melissa and I are overwhelmed by their generosity."
Melissa added, "This experience is one we will never forget. It's proof that if you keep believing, dreams really can come true!"
Click here to view the CH News story about Brad & Melissa's experience at BCHS.