Careers and Volunteering
Important Information for Applicants
Effective September 7th, 2021 all applicants must provide proof of full vaccination against Covid-19 (in the form of watermark receipts from the provincial portal) or provide written proof of a medical or religious reason for not being fully vaccinated as per the provincial direction as set out by the CMOH Directive 6.
Upcoming Job Fair!
BCHS is holding a Nursing Job Fair on September 15th from 2:00pm-7:00pm. We have immediate positions available in many areas including specialty programs like Emergency, Critical Care, Operating Room and Centralized Resources. We want to meet you!
Please see details below: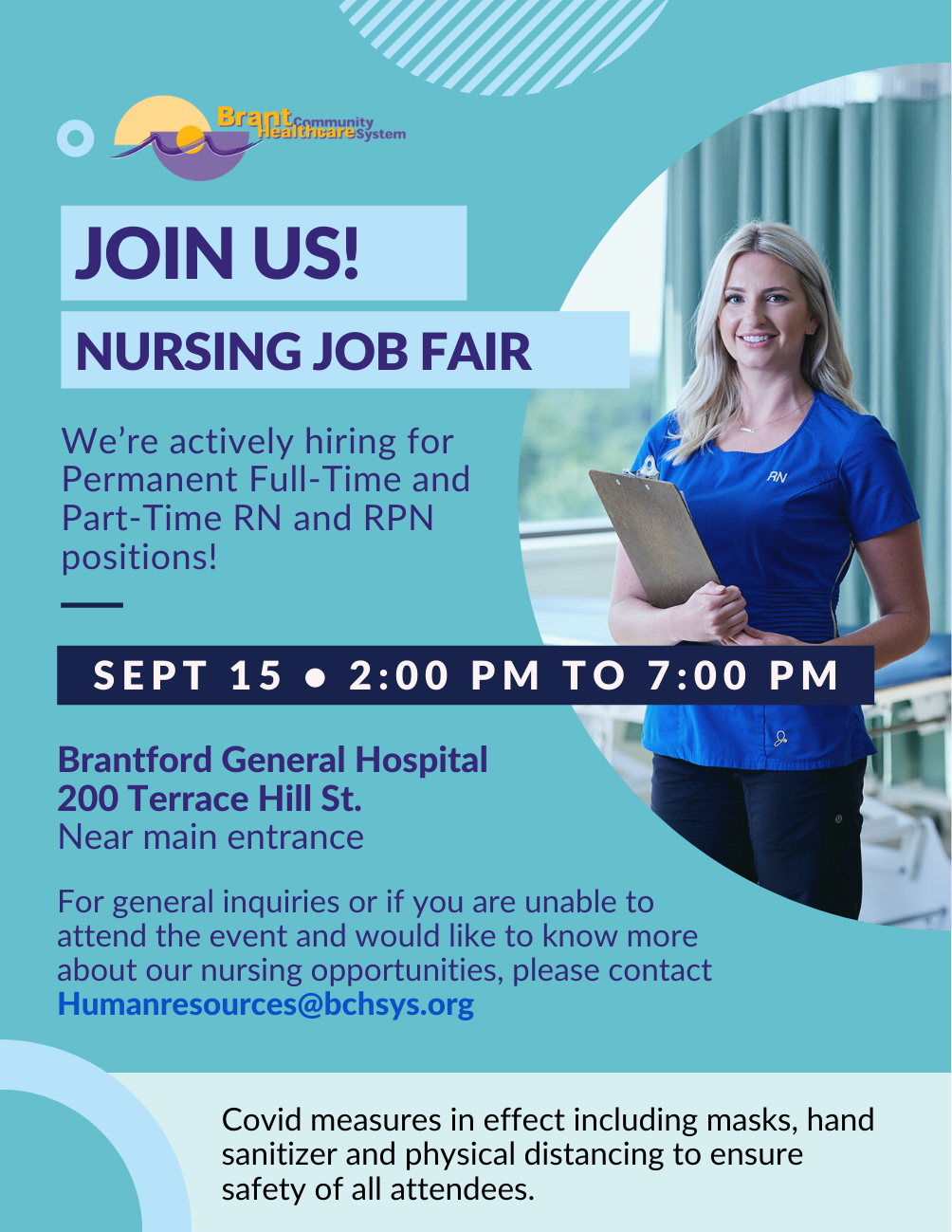 When you join Brant Community Healthcare System (BCHS), you're joining a community with over 130 years of making a difference in the lives of patients and families throughout Brant County. At BCHS, we value accountability, equity, respect and compassion. This is where patients come first!
We would be nothing without our great people who deliver outstanding care and customer service every day. That is why BCHS strives to make this is a great place to work. We believe in recognizing and rewarding our teams, supporting continuing education and ongoing meaningful opportunities for growth and development.
This is a great time to consider joining BCHS! We are starting a new chapter, come be part of our story.
Disclaimer: Fraudulent Employment Offers
Unfortunately, we know of fraudulent employment offers being circulated by individuals/entities claiming they are representatives of or subsidiaries under contract with Brant Community Healthcare System.
If you receive an employment offer from admin@b-c-h-sys.org, and/or the name "Carole Kennedy", and/or the telephone number 1-646-844-8464, please disregard as this offer is fraudulent.
Brant Community Healthcare System does not:
Offer a candidate a position without having undergone the full recruitment and selection process (including interviews and reference checks)
Send job offers from free email services such as Gmail or Hotmail
Offer an employment contract in exchange for payment
Request passport information as a supporting documentation requirement